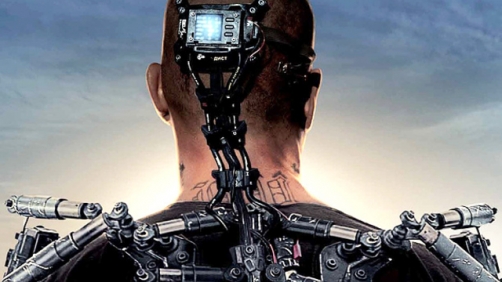 The sea is full of monsters, strippers, runaways, and drug dealers are teaming up, Matt Damon is trying to free us from a post-apocalyptic nightmarish future, planes are soaring through the air, and trailers are getting voiceovers this weekend! It's a big one.
New This Weekend!
Percy Jackson: Sea of Monsters — PG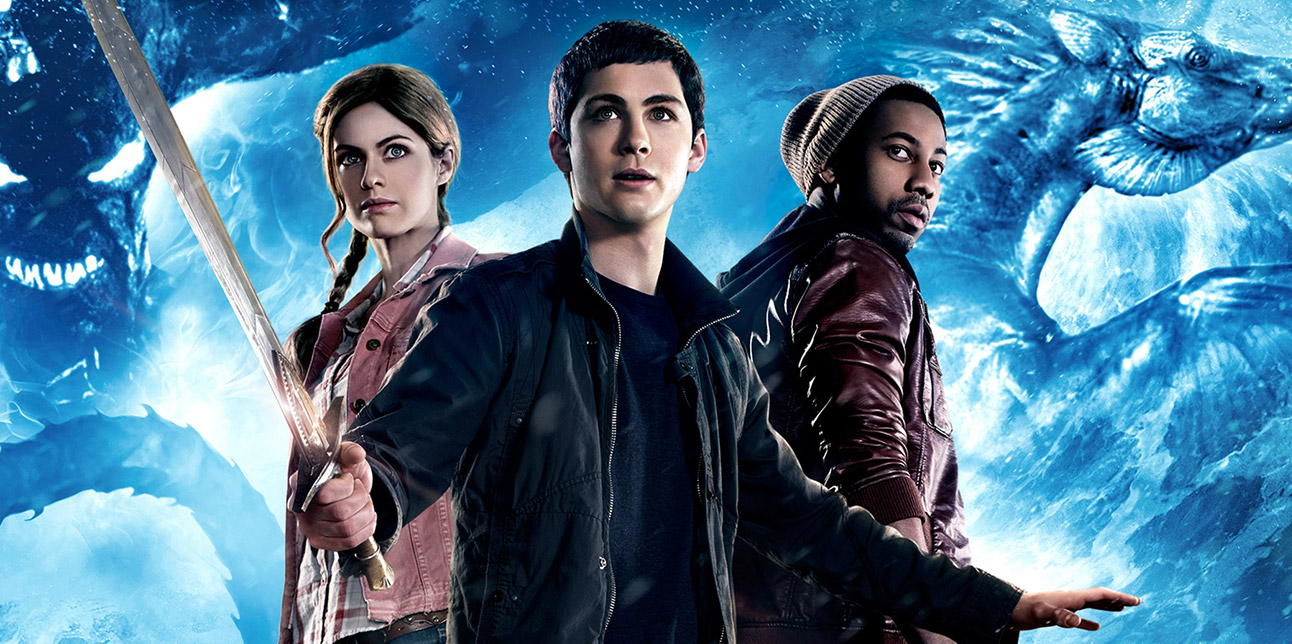 It's hard for me to have a good opinion since I still haven't even seen the first one, a problem I intend to rectify this weekend because it does look interesting and I want to come to this film with the proper context. I won't get to see this film until next weekend probably, though. I like the looks of it — I'm a big fan of fantasy and sci-fi in general though so, that could be influencing my opinion.
Though Percy Jackson (Logan Lerman), the half-human son of Greek god Poseidon, once saved the world, lately he's been feeling less than heroic. However, he doesn't have much time to brood—the magical borders that protect Camp Half-Blood are dissolving, and a horde of mythical beasts threatens the demigods' sanctuary. In order to save Camp Half-Blood, Percy and his friends embark on a journey to the Sea of Monsters—aka the Bermuda Triangle—to find the magical Golden Fleece.
1 hr 46 min
PG | Fantasy action violence, some scary images and mild language.
Cast: Logan Lerman, Alexandra Daddario, Brandon T. Jackson, Nathan Fillion, Jake Abel
Director: Thor Freudenthal
Genres: Action/Adventure, Family, Sci-Fi/Fantasy
See or not: Maybe.
'Percy Jackson: Sea of Monsters' International Trailer »
'Percy Jackson: Sea of Monsters' Trailer 2 »
---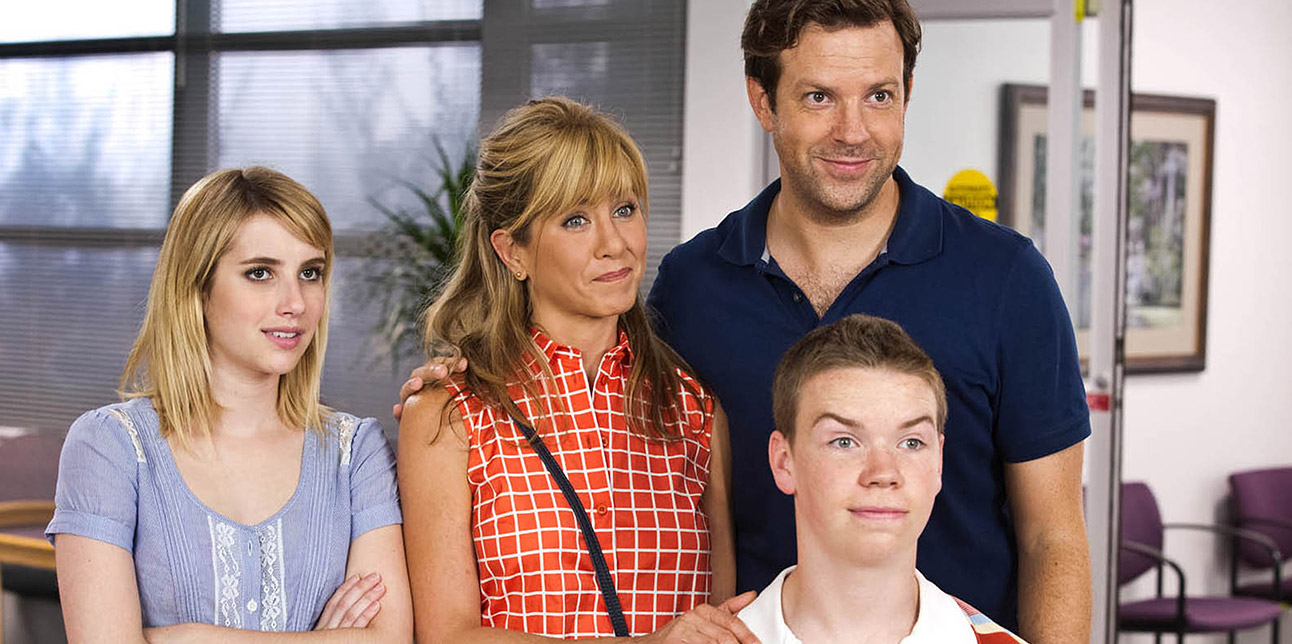 I can't wait to not see this film. It looks unbearably disgusting and stupid. If you go see this, I will deny any knowledge of you.
Small-time pot dealer David (Jason Sudeikis) learns the hard way that no good deed goes unpunished; trying to help some teens, he is jumped by thugs and loses his cash and stash. Now, David's in big debt to his supplier and—to wipe the slate clean—he must go to Mexico to pick up the guy's latest shipment. To accomplish his mission, Dave devises a foolproof plan: He packs a fake family into a huge RV and heads south of the border for a wild weekend that is sure to end with a bang.
1 hr 50 min
R | Crude sexual content, pervasive language, drug material and brief graphic nudity.
Cast: Jennifer Aniston, Jason Sudeikis, Ed Helms, Emma Roberts, Will Poulter
Director: Rawson Marshall Thurber
Genres: Action/Adventure, Comedy
See or not: NOT!
---
Elysium — R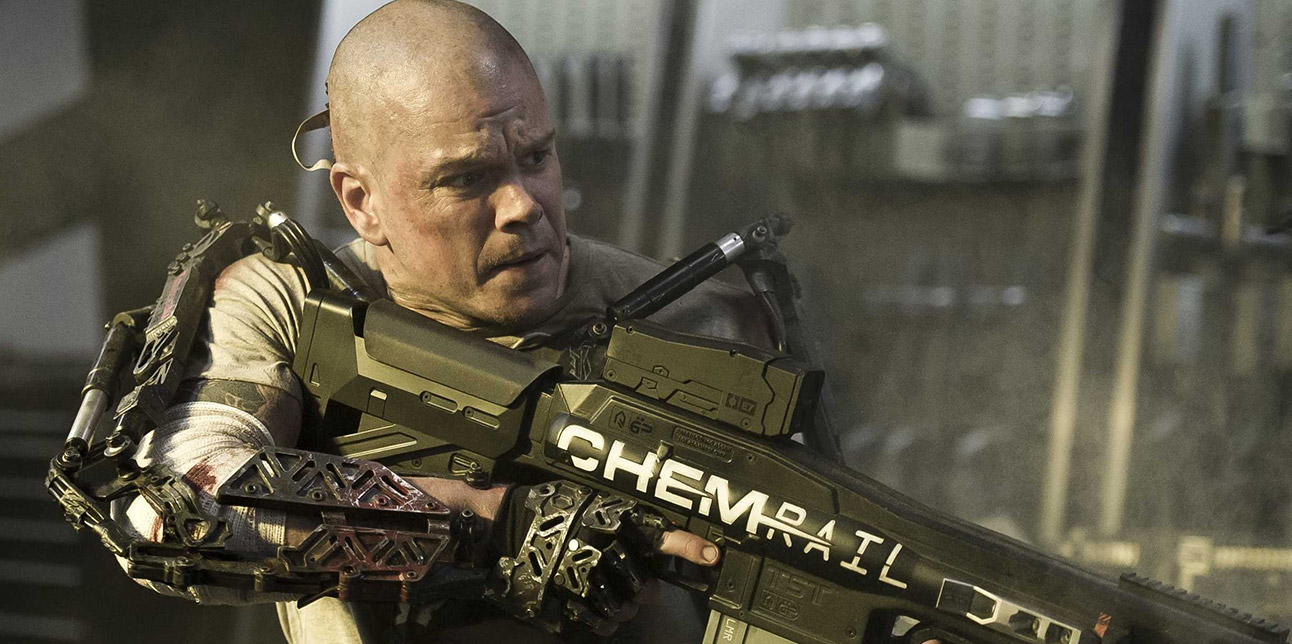 I'm cautiously optimistic about this film. It should be no shock to anyone that I'm a very libertarian leaning conservative, and some of the apparent themes of this film might rub me the wrong way as such. But I have heard from a friend that is libertarian conservative leaning much as I am, and he said though he had some problems with the film in that way, it was a very enjoyable film and mostly worth watching. So I'm cautiously hopeful.
I'm going to see it tonight and I'll be letting you know what I think shortly thereafter.
In the year 2159, humanity is sharply divided between two classes of people: The ultrarich live aboard a luxurious space station called Elysium, and the rest live a hardscrabble existence in Earth's ruins. His life hanging in the balance, a man named Max (Matt Damon) agrees to undertake a dangerous mission that could bring equality to the population, but Secretary Delacourt (Jodie Foster) vows to preserve the pampered lifestyle of Elysium's citizens, no matter what the cost.
1 hr 49 min
R | Strong bloody violence and language throughout
Cast: Matt Damon, Jodie Foster, Sharlto Copley, Alice Braga, Diego Luna
Director: Neill Blomkamp
Genres: Action/Adventure, Drama
See or not: See
'Elysium' Trailer »
'Elysium' Trailer 2 - Longer and More Info »
Elysium Featurettes Detail The World Building and Blomkamp's Vision »
'Elysium Clip' Matt Damon Takes On a Robot »
Matt Damon Wakes Up — New Clip from 'Elysium' »
'Elysium' Extended Trailer »
'Elysium' Clips and Featurettes Tell Us About Kruger »
---
Planes — PG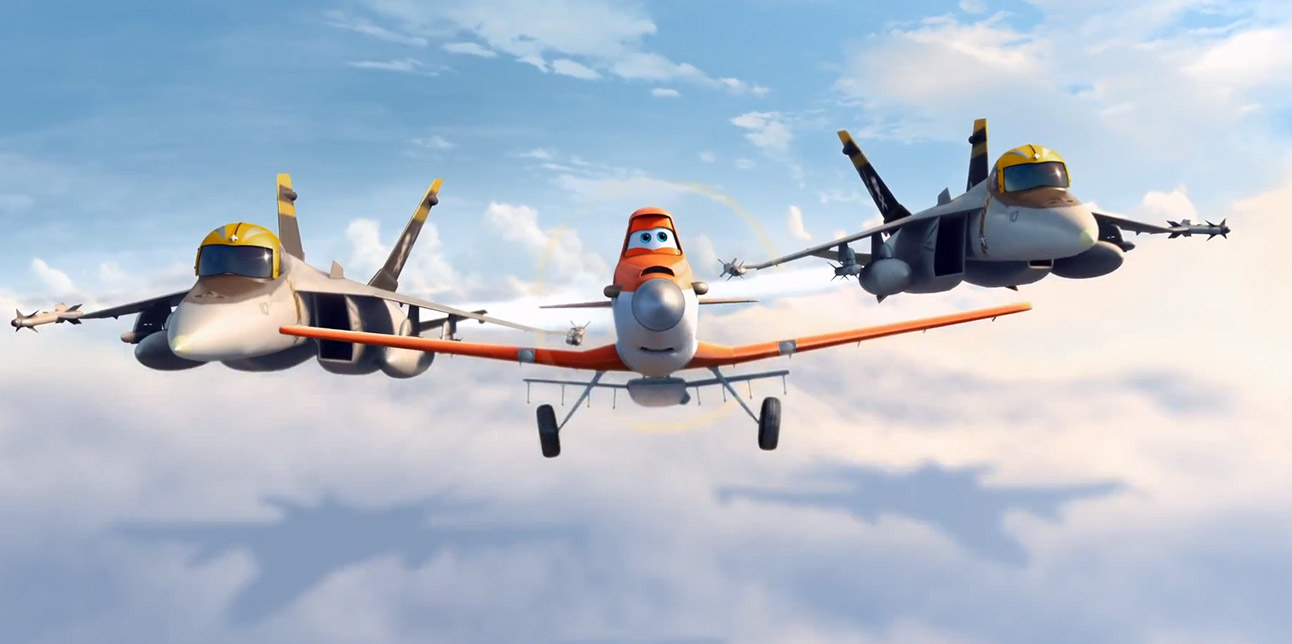 It is very difficult to come up with words for just how uninterested I am in this film. It may not be from Pixar exactly, but it's in the world of Cars, and while I loved the first one, the second Cars film was a wee bit lacking, and this looks completely devoid of anything that mad Cars good, ever.
From above the world of "Cars" comes "Disney's Planes," an action-packed 3D animated comedy adventure featuring Dusty (Dane Cook), a plane with dreams of competing as a high-flying air racer. But Dusty's not exactly built for racing—and he happens to be afraid of heights. So he turns to a seasoned naval aviator who helps Dusty qualify to take on the defending champ of the race circuit. Dusty's courage is put to the ultimate test as he aims to reach heights he never dreamed possible, giving a spellbound world the inspiration to soar.
1 hr 32 min
PG | Some Mild Action and Rude Humor
Cast: Dane Cook, Julia Louis-Dreyfus, Brad Garrett, Stacy Keach, Teri Hatcher, John Cleese, Val Kilmer, Anthony Edwards
Director: Klay Hall
Genres: Animated, Comedy
See or not: I'm thinking, probably not.
'Planes' Teaser Trailer »
Disney's 'Planes' Sneak Peek »
'Planes' Full Theatrical Trailer »
New 'Planes' Trailer »
---
Still In Theaters
2 Guns — R
This film could have been decent, I liked the story okay, and the chemistry between Denzel Washington and Mark Wahlberg was great. Unfortunately, they threw in a nudey scene with Paula Patton. There a lot of things I don't mind that can make a film R-rated, and this is not one of them. It's a big no-no in my book and instantly drops my star rating of the film by one whole star. Consequently, I cannot recommend the film and give it only 2 out of 5 stars. Catch my review here, and here me talk about it with Chad on Episode 55 of The MovieByte Podcast.
For the past year, DEA agent Bobby Trench (Denzel Washington) and U.S. Navy intelligence officer Marcus Stigman (Mark Wahlberg) have been working under cover as members of a narcotics syndicate. The twist: Neither man knows that the other is an undercover agent. When their attempt to infiltrate a Mexican drug cartel and recover millions goes haywire, the men are disavowed by their superiors. Trench and Stigman must go on the run lest they wind up in jail or in a grave.
1 hr 49 min
R | Violence throughout, language and brief nudity.
Cast: Mark Wahlberg, Denzel Washington, Paula Patton, Bill Paxton, Fred Ward
Director: Baltasar Kormákur
Genres: Action/Adventure, Suspense/Thriller
See or not: Maybe…
2 Guns - Review »
The MovieByte Podcast #55: I Didn't Hate It »
Apple Trailers Page »
---
The Wolverine — PG-13
This film is pretty fantastic and it definitely feels like the X-Men franchise may be getting back on track. This film does well in focusing on Logan and his character, and the personal turmoil he would be in after the events of X-Men: The Last Stand.
I wrote a review which you may want to read, and Chad and I talked about it on The MovieByte Podcast.
Lured to a Japan he hasn't seen since World War II, century-old mutant Wolverine (Hugh Jackman) finds himself in a shadowy realm of yakuza and samurai. Wolverine is pushed to his physical and emotional brink when he is forced to go on the run with a powerful industrialist's daughter (Tao Okamoto) and is confronted – for the first time – with the prospect of death. As he struggles to rediscover the hero within himself, he must grapple with powerful foes and the ghosts of his own haunted past.
2 hr 6 min
PG-13 | Language, Intense Sci-Fi Action, Some Sexuality and Violence
Cast: Hugh Jackman, Will Yun Lee, Hiroyuki Sanada, Hal Yamanouchi, Tao Okamoto
Director: James Mangold
Genres: Action/Adventure
See or not: See
The MovieByte Podcast #54: The Quest for Adamantium »
The Wolverine - Review »
The Wolverine - Full Trailers »
Japanese Trailer for 'The Wolverine' »
'The Wolverine' Official CinemaCon Trailer »
'The Wolverine' Trailer 2 »
'The Wolverine' International Trailer »
'The Wolverine' Featurette »
'The Wolverine' Train Fight Sequence (Video) »
'Wolverine' Interrupts a Funeral »
'The Wolverine' New Clip and Short Featurette »
Peter Sciretta and Germain Lussier Liked 'The Wolverine' »
---
The Smurfs 2 — PG
I have no intention of seeing this film. It looks terrible. I do remember that my parents weren't too keen on my watching it as a kid, and from watching the trailers and stuff I can kind of see why. Some of the mildly crude humor is very much of the sort that the kids would pick up on and repeat all the time.
In any event, the film looks really stupid and I'll be skipping this film.
In this sequel to Columbia Pictures/Sony Pictures Animation's hybrid live action/animated family blockbuster comedy The Smurfs™, the evil wizard Gargamel creates a couple of mischievous Smurf-like creatures called the Naughties that he hopes will let him harness the all-powerful, magical Smurf-essence. But when he discovers that only a real Smurf can give him what he wants, and only a secret spell that Smurfette knows can turn the Naughties into real Smurfs, Gargamel kidnaps Smurfette and brings her to Paris, where he has been winning the adoration of millions as the world¹s greatest sorcerer. It's up to Papa, Clumsy, Grouchy, and Vanity to return to our time, reunite with their human friends Patrick and Grace Winslow, and rescue her! Will Smurfette, who has always felt different from the other Smurfs, find a new connection with the Naughties Vexy and Hackus – or will the Smurfs convince her that their love for her is True Blue?
1 hr 42 min
PG
Cast: Hank Azaria, Neil Patrick Harris, Jayma Mays
Director: Raja Gosnell
Genres: 3D, Action/Adventure, Animated
See or not: Not
'The Smurfs 2' Trailer »
'The Smurfs 2' Trailer 2 »
---
Despicable Me 2 — PG
A little better than I thought, and certainly a lot better than the first installment in the Despicable Me franchise. Yeah, it's a little bit slapstick and times, and the humor is not always of the highest form, but it is pretty fun. We talked about it on The MovieByte Podcast episode 51, you'll want to check that out. I rated it 3 of 5 stars. It's sort of worth seeing.
Now that Gru (Steve Carell) has forsaken a life of crime to raise Margo, Agnes and Edith, he's trying to figure out how to provide for his new family. As he struggles with his responsibilities as a father, the Anti-Villain League – an organization dedicated to fighting evil – comes calling. The AVL sends Gru on a mission to capture the perpetrator of a spectacular heist, for who would be better than the world's greatest ex-villain to capture the individual who seeks to usurp his power.
1 hr 38 min
PG | Rude humor and mild action
Cast: Steve Carell, Kristen Wiig, Benjamin Bratt, Miranda Cosgrove, Russell Brand, Ken Jeong, Steve Coogan
Director: Chris Renaud, Pierre Coffin
Genres: Animated, Comedy, Family
See or not: Meh.
The MovieByte Podcast #51: Hi-Ho, Silver »
Apple Trailers Page »
---
Turbo — PG
To be honest, this film doesn't look great to me. Dreamworks has always been a bit hit or miss for me, and especially in the the past they've tended to be a bit copy cat like with some of their films.
But, I do have it on good authority that this film is better than one might expect so I'll have to see it and form my own opinion.
Turbo (Ryan Reynolds) is a speed-obsessed snail with an unusual dream: to become the world's greatest racer. This odd snail gets a chance to leave his slow-paced life behind when a freak accident gives him the power of superspeed. Newly revved-up, Turbo embarks on an extraordinary quest to enter and win the Indianapolis 500. Accompanied by a dedicated pit crew of trash-talking adrenaline junkies, Turbo becomes the ultimate underdog by refusing to let his limitations get in the way of his dreams.
1 hr 36 min
PG | some mild action and thematic elements
Cast: Ryan Reynolds, Paul Giamatti, Michael Peña, Samuel L. Jackson, Luis Guzman, Bill Hader Director: David Soren
Genres: Animated, Family
See or not: Maybe…
'Turbo' Theatrical Trailer 2 »
'Turbo' Trailer #2 »
Dreamworks 'Turbo' Trailer »
---
RED 2 — PG-13
I enjoyed the first film in this franchise so much that I was greatly looking forward to this second installment. And having now seen it, let me just tell you that it lives up. Don't listen to the critics needlessly beating it down (critics tend to suck all the joy out of life anyway). This film is fun, with a fun, and funny plot, engaging characters, and a supremely well acted, and surprise villain. Definitely go see this one folks!
Chad and I had the chance to talk about it on The MovieByte Podcast Episode 53, and though he liked it a little less, he generally agrees with me. Be sure to see this film, folks!
In RED 2, the high-octane action-comedy sequel to the worldwide sleeper hit, retired black-ops CIA agent Frank Moses reunites his unlikely team of elite operatives for a global quest to track down a missing portable nuclear device. To succeed, they'll need to survive an army of relentless assassins, ruthless terrorists and power-crazed government officials, all eager to get their hands on the next-generation weapon. The mission takes Frank and his motley crew to Paris, London and Moscow. Outgunned and outmanned, they have only their cunning wits, their old-school skills, and each other to rely on as they try to save the world—and stay alive in the process.
1 hr 56 min
PG-13 | Pervasive action and violence including frenetic gunplay, and for some language and drug material.
Cast: Bruce Willis, John Malkovich, Mary-Louise Parker, Helen Mirren, Anthony Hopkins, Lee Byung-hun
Director: Dean Parisot
Genres: Action/Adventure, Comedy
See or not: See!
The MovieByte Podcast #53: No Grasshopper »
'RED 2' »
'RED 2' - Trailer 2 »
Six Clips from 'RED 2' »
---
The Heat — R
Having seen the film, I can say, don't take your kids (duh, it is rated R after all). In many ways this film was fun, in some ways though, this film pegged out my cheese-o-meter. In general I feel like this film is a missed opportunity. If they had toned down just a bit of the over-the-topness, and cut down the foul language just a little, they could have had a really great film here. As it is, I was a little disappointed. I'll find time to write my full review soon.
Uptight and straight-laced, FBI Special Agent Sarah Ashburn (Sandra Bullock) is a methodical investigator with a reputation for excellence–and hyper-arrogance. Shannon Mullins (Melissa McCarthy), one of Boston P.D.'s "finest," is foul-mouthed and has a very short fuse, and uses her gut instinct and street smarts to catch the most elusive criminals. Neither has ever had a partner, or a friend for that matter. When these two wildly incompatible law officers join forces to bring down a ruthless drug lord, they become the last thing anyone expected: buddies. From Paul Feig, the director of "Bridesmaids."
1 hr 57 min
R | Pervasive language, strong crude content and some violence
Cast: Sandra Bullock, Melissa McCarthy, Demián Bichir, Marlon Wayans, Michael Rapaport
Director: Paul Feig
Genres: Comedy
See or not: Worth seeing if you can take the foul language and some over the top cheese.
"The Heat" Official Trailer »
'The Heat' Clip: Are You A Narc? »
'The Heat' - "Good Cop/Bad Cop" Clip »
---
Pacific Rim — PG-13
I was a little worried about this film at first. It looked for all the world during the first phase of the promotional campaign like a big stupid action movie — all fluff and no substance. The tide of the campaign slowly began to turn more toward the human drama aspects as the film's release date drew ever nearer, and finally started getting me a little bit excited for the film.
And now, having seen the film, I can say it is about what I expected. Yes, there is a whole lot of crashing things around, big aliens meet up with big robots and they throw each other around a lot and tear stuff up. And yeah, there's some cheesy dialog, over the top action, way over the top humor, even some cartoonish elements. And yet, the film did have some substance, it did have some human drama, even if I wanted a little more than what I got. I give it 4 out of 5 stars and we talked about it on The MovieByte Podcast Episode 52. It's worth seeing as a summer action blockbuster.
When legions of monstrous creatures, known as Kaiju, started rising from the sea, a war began that would take millions of lives and consume humanity's resources for years on end. To combat the giant Kaiju, a special type of weapon was devised: massive robots, called Jaegers, which are controlled simultaneously by two pilots whose minds are locked in a neural bridge. But even the Jaegers are proving nearly defenseless in the face of the relentless Kaiju. On the verge of defeat, the forces defending mankind have no choice but to turn to two unlikely heroes—a washed up former pilot (Charlie Hunnam) and an untested trainee (Rinko Kikuchi)—who are teamed to drive a legendary but seemingly obsolete Jaeger from the past. Together, they stand as mankind's last hope against the mounting apocalypse.
2 hr 11 min
PG-13 | sequences of intense sci-fi action and violence throughout, and brief language
Cast: Charlie Hunnam, Diego Klattenhoff, Idris Elba, Rinko Kikuchi, Charlie Day
Director: Guillermo del Toro
Genres: Sci-Fi/Fantasy
See or not: See
The MovieByte Podcast #52: Punching Michael Bay In The Head »
Newest 'Pacific Rim' Trailer »
'Pacific Rim' Trailer 3 »
Behind the Scenes of 'Pacific Rim' »
'Pacific Rim' - 'At the Edge' TV Spot ' »
'Pacific Rim' Featurette: Robot Sets »