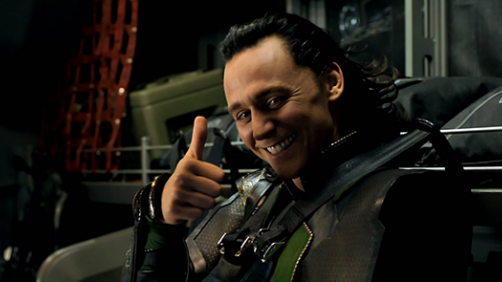 Angie Han - /Film
If that thunderous reception in Hall H was any indication, Loki, the villain of Thor and The Avengers, is every bit as popular as any of Marvel's do-gooders. Unfortunately, since he's not a hero, there doesn't seem to be much place for him in The Avengers: Age of Ultron. Even Tom Hiddleston has admitted that his character has nothing else to "contribute to The Avengers, narratively."

But Alan Taylor has heard the cries for more Loki, and is happy to fill that need in Thor: The Dark World. The director revealed in a recent interview that the film is now going in for reshoots, not because they messed up the first time but because they want to give the trickster god more screentime.
Huh. Okay… That is not a great sign to me. Narratively, it's never a good idea to go tamper with the story because of what might be perceived to give the film more appeal. Still, maybe they have good stuff planned for Loki, but I'm a bit skeptical.