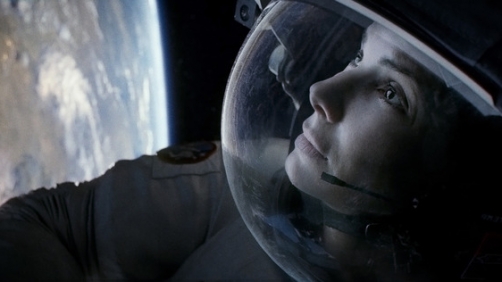 Yeah, I'm a day later than normal getting this out. I had to do some traveling over the weekend, and I got back late, I was exhausted, I woke up late on Monday, my dog ate my home work… oops, wrong excuse bag (seems like I retired that one long ago, don't know how that one came up).
I've been thinking about moving the box office report to Tuesday anyway since very often, Box Office Mojo does not report actuals until Monday afternoon. Currently, for me, Monday afternoon is unworkable for me.
Well in any event, Gravity had no problem rising well above the rest of the offerings at the box office this past weekend, as if gravity had no effect on it at all.
#1 — Gravity
Budget: $100 Million
Totals: $55.7 Million, Weekend / $28.4 Million, Foreign / $84.2 Million, Worldwide
Weekend: 1
Wow. Wow wow wow wow wow wow.
Wow.
I think we may have this year's Oscar winner, right here. This film was intense. It had story, beauty, acting talent, drama, thrill, fear. This film had everything without feeling like it was forcing everything. You want to know one of the best parts? This film is only 1hr 31min. It simultaneously feels shorter and longer than that. It feels like moments last forever with the drama and tension, and yet it never feels like it overstays its welcome. One of my pet peeves is when films are too long. This film knows how long it needs to be and is confident with that time. It doesn't bloat anything to increase its runtime, and it doesn't rush anything to shorten it.
George Clooney was fine, but Sandra Bullock was incredible. This, my friends, is the performance of a lifetime. And the amazing thing is I barely saw Sandra Bullock. Who knew she was that good at acting? I mean I've always thought she was just fine, but this… words fail me. I'll get back to you when I write my review.
Suffice it to say for now that this is an incredible film and it deserves to stay on top of the box office for the next couple of weeks and it deserves, thus far, to win this year's Oscar for best picture in my opinion.
---
#2 — Cloudy with a Chance of Meatballs
Budget: $78 Million
Totals: $20.9 Million, Weekend / $60 Million, Domestic / $11.2 Million, Foreign / $71 Million, Worldwide
Weekend: 2
This film really must have raked in some cash during the week because there's a pretty big disparity between this weekend's total, last weekend's total, and the overall total. That makes sense since this movie is going to appeal to kids as much as anyone. I suppose parents are just as inclinced to take their kids on weeknights as any other time?
However, it is fitting to me that this film's 2 week total, despite the fact that it brought in quite a haul throughout the week, sits below the 1 week total of Gravity.
---
#3 — Runner Runner
Budget: $30 Million
Totals: $7.7 Million, Weekend / 23.4 Million, Foreign / $31.1 Million, Worldwide
Weekend: 1
This film looks an awful lot like a bomb… until you look at the foreign total. For whatever reason, this film seems to have more international appeal than domestic. And with a modest budget, this film is destined to make perhaps a little bit of money. As we've discussed before, the gross equaling budget does not mean it has turned a profit just yet, but its getting closer. And the smaller the budget, the less gap there is to close.
I should probably check this film out some time.
---
#4 — Prisoners
Budget: $46 Million
Totals: $5.7 Million, Weekend / $47.9 Million, Domestic / $14.1 Million, Foreign / $62 Million, Worldwide
Weekend: 3
Another good, strong film that I liked doing well at the box office. Something must be wrong with the world. The film has a few flaws, but its a good, steady thriller with a good story and lots of good drama.
---
#5 — Rush
Budget: $38 Million
Totals: $4.4 Million, Weekend / $18.1 Million, Domestic / $30 Million, Foreign / $48.1 Million, Worldwide
Weekend 2
This film is having a hard time getting any traction domestically, which is too bad, I suppose. It's doing far better in foreign markets — almost twice as much business in fact.
But for an issue that is a pretty big one with me personally, some nudity to be specific, this film was most exellent. But you put some nudity in there, and slap an R rating on it and it seems like you're pushing your viewership down a good bit so I'm neither surprised nor upset that an otherwise great film isn't doing so great.
---
#6 — Don Jon
Budget: $6 Million
Totals: $4.1 Million, Weekend / $16 Million, Domestic / $1.5 Million, Foreign / $17.5 Million, Worldwide
Weekend: 2
I think we can safely call this film profitable. I do expect that it's a good story. Unfortunately, unless someone sees it and tells me otherwise, I do not wish to set this before my eyes without some sort of filter like Clearplay (much as I normally loathe Clearplay).
---
#7 — Baggage Claim
Budget: N/A
Totals: $4 Million, Weekend / $15.1 Million, Gross
Weekend 2
Well, they still haven't released the budget numbers on this one, which tells me they are embarrassed about how much they spent making this film. And it doesn't really look like it's going anywhere. I'm not hearing great things about this film either.
---
#8 — Insidious Chapter 2
Budget: $5 Million
Totals: $3.9 Million, Weekend / $74.7 Million, Domestic / $12.5 Million, Foreign / $87.3 Million, Worldwide
Weekend 4
Let's see, let me do some math — carry the 1… yep, this film has now brought in 17.4 times its production budget. That's… that's astounding. Congratulations to everyone involved. Regardless of how I personally feel about what I think this film is (admittedly I have not seen it), I think applause for this achievement is in order.