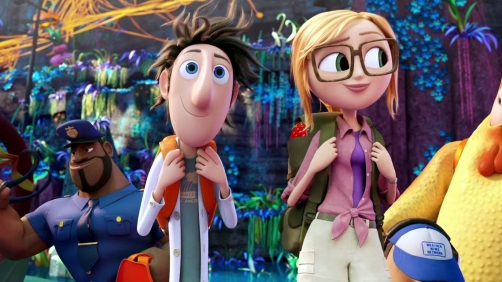 I have no interest in this film, I mean really, like I don't get it. But I hear it's good and people would like for me not to be judgmental over it or whatever. Fine, whatever…
No really, I've been told it's a pretty good film, maybe not as good as the first one, but a good film none-the-less. That's good because it did brought in the most money. However, by percentage of budget it didn't really do much better than Rush, which I expected to do better than it did.
#1 — Cloudy With a Chance of Meatballs 2
Budget: $78 Million
Totals: $34 Million, Weekend / $34 Million, Gross
Week Number: 1
I don't get the appeal to this film, but you know, apparently a lot of people like it. I do feel a wee little bit vindicated in my pre-judging of this film by looking at the Tomatometer. The critics only give it a 59% approval rating. On the other hand, I don't always agree with the critics so maybe I should go see it. One thing is certain however, this film has a long way to go to make any money.
---
#2 — Prisoners
Budget: $46 Million
Totals: $10.8 Million, Weekend / $38.5 Million, Domestic Total / $6.3 Million, Foreign Total / $44.8 Million, Worldwide
Weekend 2
Prisoners was a quite satisfying thriller/drama. While the film does have its flaws, it does a really good job of steadily ramping up to a unsettling climax. The film doesn't feel the need to throw you into needless action scenes to capture your attention or keep it, but uses actual drama and good storytelling to hold your interest.
It's sitting just shy of production budget right now on its worldwide total and I hope to see it do better since the film is pretty decent. Unfortunately, things will probably start falling of sharply for this film at this point.
---
#3 — Rush
Budget: $38 Million
Totals: $10 Million, Weekend / $13.1 Million, Foreign / $23.3 Million, Worldwide
Weekend 1
There's something strange going on with Box Office Mojo, which is reporting this as the second weekend for this film. As far as I know, and on every other site I've looked at, this is the first weekend for Rush. It certainly was not available in any theater in my area until this past weekend. I don't know if it's an error on Box Office Mojo, or whether they are counting some really small theater count pre-opening of this film or what, but I'm calling this the first weekend for this film.
In any event, I did not get a chance to see it this weekend as some things came up. However, I'm hearing really good things about it and I plan to see it tonight, actually. And it is certified fresh on the Tomatometer.
---
#4 — Baggage Claim
Budget: N/A
Totals: $9 Million, Weekend / $9 Million, Gross
Weekend 1
I wasn't actually sure where this film would fall, and its certainly not in my interest range. But it did slightly better than I expected. I guess a few folks were in the mood for a Rom-Com this weekend. I can tollerate a couple and even like one or two, but in general, romantic comedies just tend to be silly and sappy to me. But I'm sure this was a fine installment into its genre. It's a little odd that we don't know the budget so it's hard to judge how well the film is doing on that level. If they spent $30 Million making it (unlikely) then it's not doing so well. If they spent $10 Million making it, then they're probably doing all right.
---
#5 — Don Jon
Budget: $6 Million
Totals: $ 8.6 Million, Weekend / $8.6 Million, Gross
Weekend: 1
On that budget, I'm sure everyone involved with making and producing this film is quite happy. And here's the thing, I expect the film has substance and story and on that level I wish I could go see it. However, it is rated R for (unsurprisingly given the subject matter), strong graphic sexuality and nudity. I can't see it because of that unless someone I trust sees it and tells me otherwise.
---
#6 — Insidious Chapter 2
Budget: $5 Million
Totals: $6.5 Million, Weekend / $69.3 Million, Domestic / $9.2 Million, Foreign / $78.6 Million, Worldwide
Weekend 3
I have a picture in my head of studio executives and pencil pushing producers sitting around in meeting after meeting, week after week of this film, trying to figure out how to exactly replicate this scenario. "How can we spend only $5 Million on the next film and get it to bring in $80 Million worldwide?"
Unfortunately I think the answer is that these things can be somewhat unpredictable. I could be wrong, but I don't think anyone could have predicted the runaway success of the first film. And actually, that first film did even better on a percentage. They spent only $1.5 Million and raked in $97 Million worldwide gross. Chapter two is not done yet though, and in the end it may do better, we'll see. But one thing is clear, it's on the same basic track.
I sure don't get it.
---
#7 — The Family
Budget: $30 Million
Totals: $3.7 Million, Weekend / $31.7 Million, Total
Weekend 3
Well, we have reached the production budget, which means this film is still in the red because that's gross. And neither critics nor audiences are liking it so I don't really have plans to see this one even though I had mild interest in it. And also, Tommy Lee Jones. But I suppose he's got to be in a dud once in a while.
---
#8 — Instructions Not Included
Budget: N/A
Totals: $3.4 Million, Weekend / $38.6 Million, Domestic / $11.5 Million, Foreign / $50.2 Million, Total Gross
Weekend 5
This film fell hard this weekend domestically, but it picked up a fairly large foreign boost. Having no idea of the budget it's hard to get an accurate assesment, but I don't think they spent a lot of money on this — certainly not $50 Million so I'm guessing this film is a solid winner on that front.
---
One other thing of note: Its so good to finally see We're The Millers fall down low enough that I don't have to include that wretchedness in my Box Office Reports anymore.