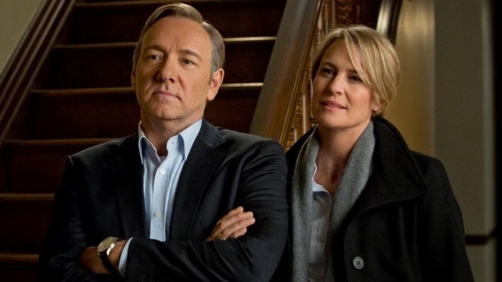 Kevin Jagernauth - The Playlist
Good news for those who think current TV shows stay on far past their welcome, or bad news for those who think "House Of Cards" still has yet to hit its peak, but, according to one person close to the series, the currently in production second season could very well be its last.

The surprising comments came from producer Rick Cleveland, speaking at the Vancouver International Film Festival last week. " 'House of Cards' is only going to go a second season and I think that's it," he said. "Kevin Spacey likes to do movies and Robin Wright likes to do movies." It's certainly a surprising statement, especially when one considers "House Of Cards" has afforded both Spacey and Wright some of the best, most substantial material they've had in years, and as far as we can tell, neither seems to be too jammed up with developing films. (Though perhaps that's a symptom of the "House Of Cards" schedule eating up their time?)
That's kind of a bummer, really. House of Cards was some of the best TV of last year. Substantial, with real plot and story, great art direction, great cinematography, and more! I do feel that some TV shows stay past their welcome, but that is more a function of the show staying past its welcome and not any hard and fast rule of a set period of time. For instance, I felt both Stargate SG1​, and Stargate Atlantis could have continued on past their cancelations and been just as good — better, even — then when they first started. I felt the same about Fringe for another example.
On the other hand, a TV show I watch called Bones has stayed far past its prime. And then I start feeling torn about watching it. On the one hand, I don't like to quit a TV show that I'm watching. I like to see it through to the end. On the other hand, Season 8 of Bones was the worst in the show's long run. The writers and producers have simply run out of good ideas for the show and they keep doing the same thing over, and over and over (and over and over and over…) but they keep finding stupider and sillier ways to do it. I'll admit that season 9 is off to a much better start then we've seen from them in a while. But the fact is, they should have ended the show gracefully already (there's still time you guys to salvage the situation somewhat if any of you producers read this — just go ahead and bring it in for a great landing!).
In short, I think House of Cards could easily go on. But, if they feel it wouldn't be as good, maybe they don't have enough story to tell, or they feel that it would be best to end it well, then perhaps that's the way to go. It does make me slightly sad though.