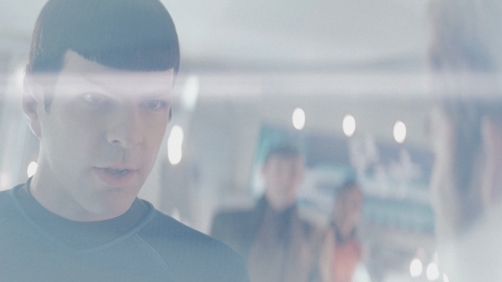 Alex Billington - FirstShowing.net
In an interview conducted just a few weeks ago (likely for the Blu-ray release of Into Darkness), Abrams finally manned up and admitted he has a problem: he's addicted to lens flares. "I think admitting you're an addict is the first step towards recovery," he said. J.J. explains it was his wife, of all people, who finally got him to realize just how much he went overboard with lens flares.
I liked Into Darkness far better than the first installment in the reboot-verse, but man those Lens flare were still a problem. It did feel like they were toned down just a tiny bit from the first film, but that may just be the fact that I was expecting them and had over-blow them in my mind so that I would be pleasantly surprised anytime I could actually see anything going on through the lens flares.
Here's the thing: lens flares can look really cool — and goodness knows I've purposefully captured lens flares on purpose from time to time and included them in my own editing for the coolness factor. But lens flares are a technique, and like any technique, if the film becomes about one single, specific technique, it becomes really, really stupid and irritating.
Here's the full quote from Abrams:
"I know I get a lot of grief for that," says Abrams. "But I'll tell you, there are times when I'm working on a shot, I think, 'Oh this would be really cool… with a lens flare.' But I know it's too much, and I apologize. I'm so aware of it now. I was showing my wife an early cut of Star Trek Into Darkness and there was this one scene where she was literally like, 'I just can't see what's going on. I don't understand what that is.' I was like, 'Yeah, I went too nuts on this.'"

"This is how stupid it was," J.J. Abrams added. "I actually had to use ILM [Industrial Light & Magic] to remove lens flare in a couple of shots, which is, I know, moronic. But I think admitting you're an addict is the first step towards recovery."
Yeah, that is nuts. That's absolutely nuts: knowing you have a problem, and still going overboard, then spending part of your production budget cleaning up your mess. Seriously, that's messed up.