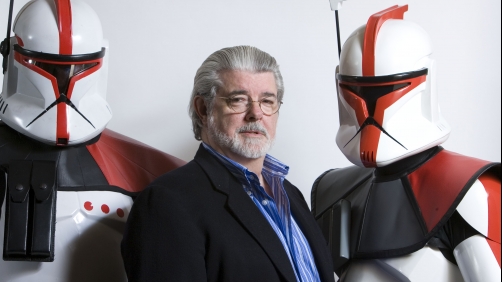 Sandy Schaefer - ScreenRant
Jett Lucas informed Flicks and the City (via Mashable) that his father was "ready to let [Star Wars] go and let it grow," but that he spent a year mapping out the franchise's future before doing so:

"He was very torn on the matter," Jett Lucas told YouTube channel Flicks and the City in an interview posted Sunday, revealing that his dad had started researching and writing the new Star Wars movies about a year before the Disney sale — and told him casually over a dinnertime phone call. "He's happiest when he's writing and doing something with his time." What the senior Lucas has done is set out "guidelines" for the new movie, Jett said.
That scares me for the upcoming film. I want nothing more than to get his grimy, grubby paws off of Star Wars. Like Gene Roddenberry before him, he's the worst thing that ever happened to his own franchise. I want Episode VII to be free of his influence. You can laugh and tell about who's who all day long and who created Star Wars, etc. And I grant you that his concept is a great one (again, just like Roddenberry), but the best Star Wars film is the one with which he had the least to do. Every film he's been involved in himself has been the lesser for it in my opinion. And certainly as the years went on, and as the prequels were made he proved he could do nothing but make terrible films.
So, I'm slightly more concerned for the film now…