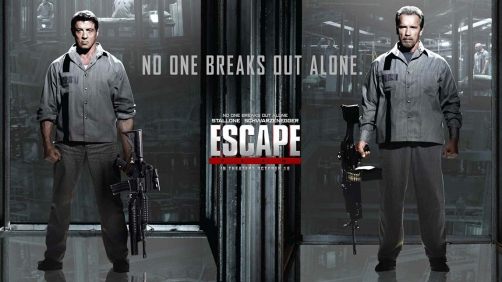 We've got a couple of new films here to choose from, one possible good option, one that doesn't look great to me but I really just don't care for the genre, and one that is in limited release.
New This Week
Carrie — R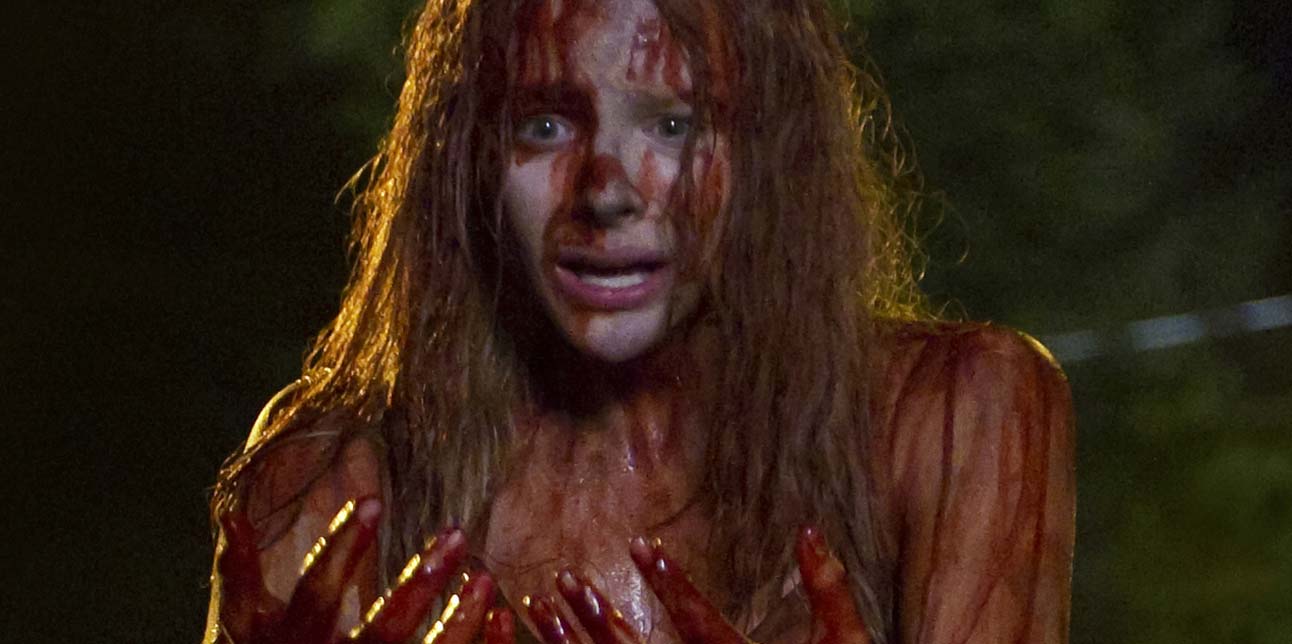 This is apparently a remake of an older film of the same name from 1976. In any event the film holds no interest for me. But apparently Chad is going to see it (actually I think he saw it last night) and will be able to give a report to us on next week's episode of The MovieByte Podcast.
A reimagining of the classic horror tale about Carrie White (Chloë Grace Moretz), a shy girl outcast by her peers and sheltered by her deeply religious mother (Julianne Moore), who unleashes telekinetic terror on her small town after being pushed too far at her senior prom.
1 hr 39 min
R | bloody violence, disturbing images, language and some sexual content
Cast: Chloë Grace Moretz, Julianne Moore, Gabriella Wilde, Portia Doubleday, Ansel Elgort
Director: Kimberly Peirce
Genres: Horror
See or Not: Not as far as I'm concerned, but I'm probably the wrong person to ask.
---
Escape Plan — R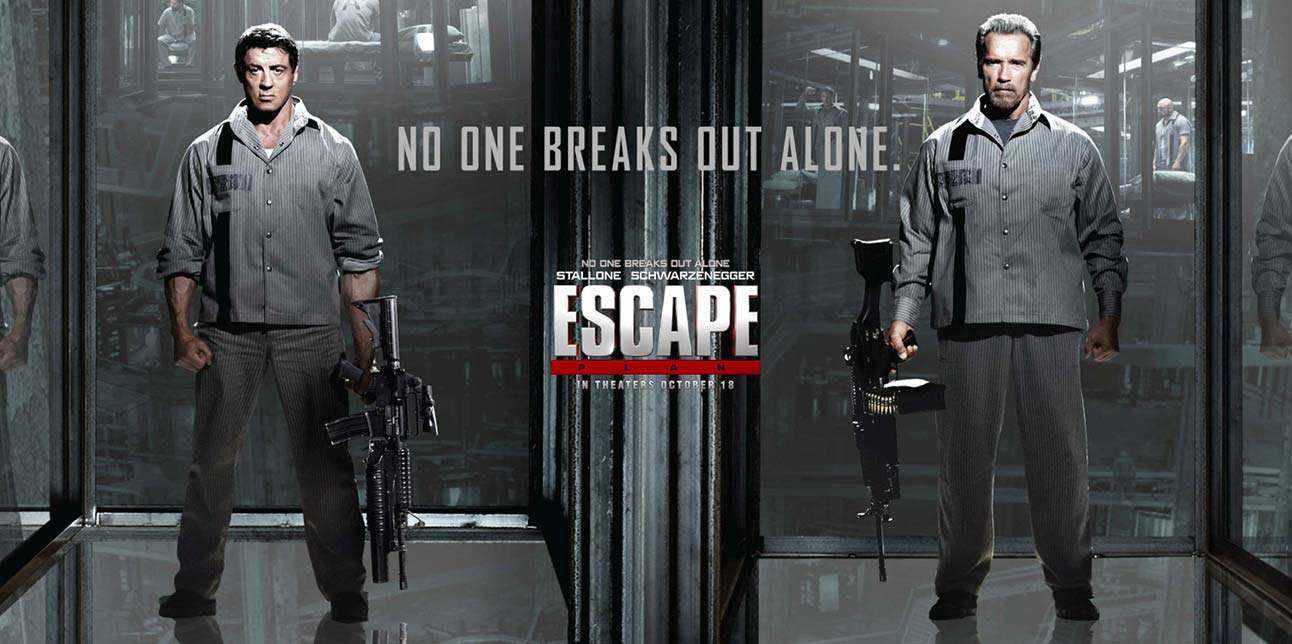 Never in my wildest imaginings did I ever think I would say this about a Sylvester Stalone film nor an Arnold Schwarzenegger film — much less a film featuring them both! — but I'm actually sort of looking forward to this one. It may be a complete dud, but something about the trailers caught my curiostiy. Let's just say it didn't actually look like a completely train wreck. It actually looks like a good story and good fun. I think one of my problems is that these two are either cast in rolls completely innapropriate for reasons unknown, or their cast in the super macho big manly man roles that I usually just don't like. While I think there's a little bit of the super macho manly man thing going on, it does look comopletely apprpopriate to the story. So, we'll see. I'm willing to give it a shot. Am I crazy?
Action superstars Sylvester Stallone and Arnold Schwarzenegger team up in the action-thriller ESCAPE PLAN. Ray Breslin (Stallone), the world's foremost authority on structural security, agrees to take on one last job: breaking out of an ultra-secret, high-tech facility called "The Tomb." But when he is wrongly imprisoned, he must recruit fellow inmate Emil Rottmayer (Schwarzenegger) to help devise a daring, nearly impossible plan to escape from the most protected and fortified prison ever built.
1 hr 55 min
R | Violence and Language Throughout
Cast: Sylvester Stallone, Arnold Schwarzenegger, James Caviezel, Vincent D'Onofrio, Vinnie Jones
Director: Mikael Håfström
Genres: Action/Adventure, Suspense/Thriller
See or Not: Maybe
---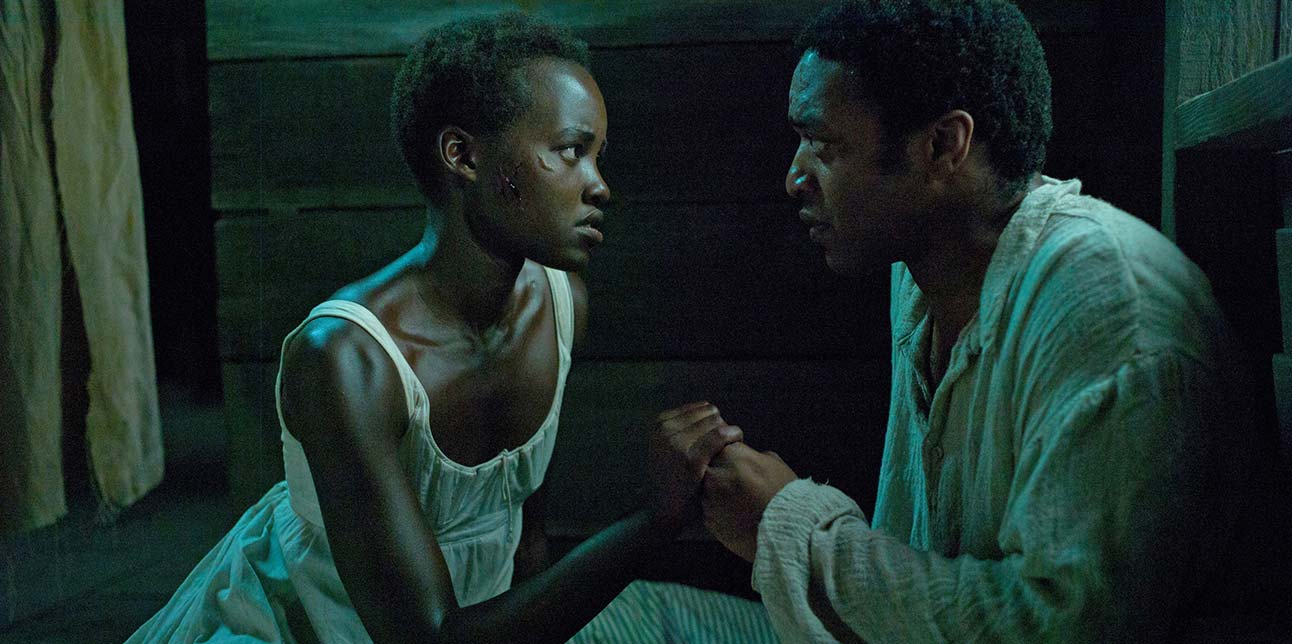 I would really like to see this one, but unfortunately it's in limited release. That probably means it will be hard for me to get a chance to see it in theaters. I'm also concerned about the fact that it is rated R in part for some nudity. Who knows what that means.
In the years before the Civil War, Solomon Northup (Chiwetel Ejiofor), a free black man from upstate New York, is kidnapped and sold into slavery in the South. Subjected to the cruelty of one malevolent owner (Michael Fassbender), he also found unexpected kindness from another, as he struggled continually to survive and maintain some of his dignity. Then in the 12th year of the disheartening ordeal, a chance meeting with an abolitionist from Canada changed Solomon's life forever.
2 hr 14 min
R | violence/cruelty, some nudity and brief sexuality
Cast: Chiwetel Ejiofor, Michael Fassbender, Brad Pitt, Benedict Cumberbatch, Paul Giamatti, Sarah Paulson, Paul Dano
Director: Steve McQueen
Genres: Drama
See or Not: Unknown At This Time
---
The Fifth Estate — R
Note that I failed to notice last week that this film was in limited release and today is the official release date. That's why I'm putting it with the new movies again this week.
It's pretty much a given that the acting in this film is going to be phenomenal because, duh, Benedict Cumberbatch. The real question now is how accurate and what side this film is going to take in this real life story. I read recently that Julliane Assange himself is not too happy with the film and/or the book it is based off of. We'll see how it goes. But I very much want to see this film.
Following Daniel Domscheit-Berg (Brühl), an early supporter and eventual colleague of Julian Assange (Cumberbatch), "The Fifth Estate" traces the heady, early days of WikiLeaks, culminating in the release of a series of controversial and history changing information leaks. The website's overnight success brought instant fame to its principal architects and transformed the flow of information to news media and the world at large.
2 hr 8 min
R | for some violence and language
Cast: Benedict Cumberbatch, Daniel Brühl, Laura Linney, Anthony Mackie, David Thewlis
Director: Bill Condon
Genres: Drama
See or not: See (hopefully)
---
Still In Theaters
Gravity — PG-13
Wow, what an amazing film. There is barely any way I can do it justice here in just a couple short paragraphs. It was majestic, frightening, and intense, with great visual story telling, and a refreshingly short runtime — it was as long as it needed to be and no longer. Sandra Bullock pulled of the performance of a career here as well. She was nothing short of amazing.
In short this film is fantastic and you must see it! Be sure to check out my review of the film, and listen to Episode 64 of The MovieByte Podcast where Chad and I discuss the film.
Dr. Ryan Stone (Sandra Bullock) is a medical engineer on her first shuttle mission. Her commander is veteran astronaut Matt Kowalsky (George Clooney), helming his last flight before retirement. Then, on a routine space walk, disaster strikes – the shuttle is destroyed, leaving Ryan and Matt stranded in deep space with no link to Earth and no hope of rescue. As their fear turns to panic, they realize that the only way home may be to venture further into space.
1 hr 31 min
PG-13 | Intense perilous sequences, some disturbing images and brief strong language
Cast: Sandra Bullock, George Clooney, Ed Harris, Orto Ignatiussen
Director: Alfonso Cuarón
Genres: Drama, Sci-Fi/Fantasy
See or not: See
---
Captain Phillips — PG-13
Another great film to choose from. It's nice to finally be getting out of that horrible slump the box office was in for a while. It's really too bad that it's going up against Gravity because it is a good film, but Gravity is indeed a little better, and seeming has more hype and staying power. We'll see how things go this weekend.
Chad and I talked about this on The MovieByte Podcast episode 65 so you'll want to check that out.
Captain Phillips is a multi-layered examination of the 2009 hijacking of the U.S. container ship Maersk Alabama by a crew of Somali pirates. It is — through director Paul Greengrass's distinctive lens — simultaneously a pulse-pounding thriller, and a complex portrait of the myriad effects of globalization. The film focuses on the relationship between the Alabama's commanding officer, Captain Richard Phillips (two time Academy Award®-winner Tom Hanks), and the Somali pirate captain, Muse (Barkhad Abdi), who takes him hostage. Phillips and Muse are set on an unstoppable collision course when Muse and his crew target Phillips' unarmed ship; in the ensuing standoff, 145 miles off the Somali coast, both men will find themselves at the mercy of forces beyond their control.
2 hr 13 min
PG-13 | sustained intense sequences of menace, some violence with bloody images, and for substance use
Cast: Tom Hanks, Barkhad Abdi, Catherine Keener, Michael Chernus, Corey Johnson
Director: Paul Greengrass
Genres: Action/Adventure, Suspense/Thriller
See or not: See
---
Cloudy with a Chance of Meatballs 2 — PG
I did not see the first one because, well, quite frankly it looks terrible. While I think there may be some elements of humor in this film I find nothing about what I know of it that compelling to go see. Many of my friends tell me otherwise though…
Cloudy with a Chance of Meatballs 2 picks up where Sony Pictures Animation's mouth-watering comedy left off. Inventor Flint Lockwood thought he saved the world when he destroyed his most infamous invention – a machine that turned water into food causing cheeseburger rain and spaghetti tornadoes. But Flint soon learns that his invention survived and is now creating food-animals – "foodimals!" Flint and his friends embark on a dangerously delicious mission to battle hungry tacodiles, shrimpanzees, hippotatomuses, cheespiders and other foodimals to save the world – again!
1 hr 35 min
PG | mild rude humor
Cast: Bill Hader, Anna Faris, James Caan, Will Forte, Kristen Schaal, Terry Crews, Andy Samberg, Neil Patrick Harris, Benjamin Bratt
Director: Cody Cameron, Kris Pearn
Genres: Animated, Comedy, Family
See or not: Meh
---
Machete Kills — R
Guys, do me a favor and DO NOT go see this terrible film. It was all I could do to even find an image I thought was safe enough to post here on MovieByte to go along with the film. One excerpted scene that came out last week revealed that Sofia Vergara's character and Alexa Vega's character are working as prostitutes. And that seems to be all the reason they need to show plenty of sex and nudity.
On top of that, every trailer and clip I have seen of the film looks like a complete and total cheese ball of a film. Yuck.
"Machete Kills" is an action-packed thrill ride about the adventures of legendary secret agent Machete Cortez (Danny Trejo). In his latest mission, Machete is recruited by the U.S. President (Carlos Estevez) to stop a crazed global terrorist (Mel Gibson) from starting a nuclear war. With a bounty on his head, Machete faces death at every turn from an all-star cast of deadly assassins. Breaking all the rules, visionary director Robert Rodriguez leads this star-studded ensemble on one of the wildest adventures to save the world ever captured on film!
1 hr 48 min
R | strong bloody violence, some sexual content and language
Cast: Danny Trejo, Michelle Rodriguez, Sofía Vergara, Amber Heard
Director: Robert Rodriguez
Genres: Action/Adventure
See or not: Definitely Not
---
Runner Runner — R
I really don't have a strong pre-opinion on this. I know that Justin Timberlake is going to be in this, therefore I am disinclined to really care about it. Old J.T. has been pretty middle of the road in the roles I have seen him in. On the other hand, Gemma Arterton is in the film — an actress which I tend to like in the roles I have seen her in. And there's Ben Affleck who, despite the fact I don't like the idea of him as Batman, and the general bad rap he sometimes gets, I actually like.
Yet again on the other hand, the trailers for this film have looked somewhat lackluster. I dunno, maybe I'll make time for this one, and maybe I won't.
Believing that he has been swindled, Princeton grad student Richie (Justin Timberlake) goes to Costa Rica to confront online-gambling tycoon Ivan Block (Ben Affleck). Block's promises of immense wealth and power have a seductive effect on Richie, until he learns the shocking truth about his new mentor. When Richie is coerced by the FBI to help bring Block to justice, he faces the biggest gamble of his life: outmaneuvering the two forces closing in on him.
1 hr 31 min
R | language and some sexual content
Cast: Ben Affleck, Justin Timberlake, Gemma Arterton, Anthony Mackie, Oliver Cooper
Director: Brad Furman
Genres: Drama
See or not: Meh.
---
Prisoners — R
As a parent, there's certainly something compelling about the truth behind the story here: how far would you go for your child? There was something that both resonated with me about this film, and also disturbed me. It is obvious that the lengths Jackman went to to get his daughter back are not to be condoned, and the film's message here was good. It was also satisfying to see such a good film that was not a purely action based film and had little to no CGI to help it along. This film was good because of it's story. Of course along the way it had some great cinematography, and it was a good thriller with a good story.
Joe and I talked about the film on The MovieByte Podcast Episode 62 so you may want to tune to to catch that.
How far would you go to protect your child? Keller Dover (Hugh Jackman) is facing every parent's worst nightmare. His six-year-old daughter, Anna, is missing, together with her young friend, Joy, and as minutes turn to hours, panic sets in. The only lead is a dilapidated RV that had earlier been parked on their street. Heading the investigation, Detective Loki (Jake Gyllenhaal) arrests its driver, Alex Jones (Paul Dano), but a lack of evidence forces the only suspect's release. Knowing his child's life is at stake, the frantic Dover decides he has no choice but to take matters into his own hands. The desperate father will do whatever it takes to find the girls, but in doing so, he may lose himself, begging the question: When do you cross the line between seeking justice and becoming a vigilante?
2 hr 33 min
R | Language Throughout, Disturbing Violent Content and Torture
Cast: Hugh Jackman, Jake Gyllenhaal, Melissa Leo, Paul Dano, Maria Bello
Director: Denis Villeneuve
Genres: Drama, Suspense/Thriller
See or not: See
---
Rush — R
I saw this film and liked it a lot, but it had some problems. Namely there was one big problem from my standpoint, and that was the nudity in two places. Disappointing for what was otherwise a pretty great film. I am getting tired of this issue getting in the way of good films.
Chad and I talked about this film on The MovieByte Podcast Episode 63. Check it out.
The epic action-drama stars Chris Hemsworth as the charismatic Englishman James Hunt and Daniel Brühl (Inglourious Basterds) as the disciplined Austrian perfectionist Niki Lauda, whose clashes on the Grand Prix racetrack epitomized the contrast between these two extraordinary characters, a distinction reflected in their private lives. Set against the sexy and glamorous golden age of Formula 1 racing, Rush portrays the exhilarating true story of two of the greatest rivals the world has ever witnessed—handsome English playboy Hunt and his methodical, brilliant opponent, Lauda. Taking us into their personal lives on and off the track, Rush follows the two drivers as they push themselves to the breaking point of physical and psychological endurance, where there is no shortcut to victory and no margin for error. If you make one mistake, you die.
2 hr 3 min
R | sexual content, nudity, language, some disturbing images and brief drug use
Cast: Chris Hemsworth, Daniel Brühl, Olivia Wilde, Alexandra Maria Lara, Pierfrancesco Favino
Director: Ron Howard
Genres: Action/Adventure, Drama
See or not: Cannot recommend due to nudity
Don Jon — R
BE WARNED, I'm given to understand that this film features strong graphic nudity and sexual material. Sort of ironic, if expected, given the subject of this film: pornography. There can be no denying that the immediate availability of graphic sexual material and stimuli has had a drastic effect upon our culture. Ostensibly, this film aims to deal with that, though if you ask me, they're just capitalizing on it. I have no intention of seeing this film given how graphic it apparently is.
Jon Martello (Joseph Gordon-Levitt) is a strong, handsome, good old fashioned guy. His buddies call him Don Jon due to his ability to "pull" a different woman every weekend, but even the finest fling doesn't compare to the bliss he finds alone in front of the computer watching pornography. Barbara Sugarman (Scarlett Johansson) is a bright, beautiful, good old fashioned girl. Raised on romantic Hollywood movies, she's determined to find her Prince Charming and ride off into the sunset. Wrestling with good old fashioned expectations of the opposite sex, Jon and Barbara struggle against a media culture full of false fantasies to try and find true intimacy in this unexpected comedy written and directed by Joseph Gordon-Levitt.
1 hr 29 min
R | strong graphic sexual material and dialogue throughout, nudity, language and some drug use
Cast: Joseph Gordon-Levitt, Scarlett Johansson, Julianne Moore, Tony Danza, Brie Larson
Director: Joseph Gordon-Levitt
Genres: Romance
See or not: I have to go with not given what I believe will be unacceptable graphic sexual nudity.
---
Baggage Claim — PG-13
Quite honestly I don't know much about this film other than that it stars Paula Patton. And it has something to do with her character's sister trying to play matchmaker. She's a flight attendant. Basically, it sounds like a pretty typical RomCom. I also know that it has a very low approval rating among critics at just 9% on the tomato meter.
Oh, also, I think that the film's official theater poster may be one of Paula Patton's worst pictures ever. Why they would use that in the promotion of the film is beyong my capability to understand.
I currently have no plans to see this one.
Although she has traveled all over the world, flight attendant Montana Moore (Paula Patton) has yet to find a man with whom she wants to settle down. However, her sister's upcoming wedding and pressure from her often-married mother force her to calculate that she has a month to find a fiance of her own. Montana's best friends and fellow flight attendants conspire to help her re-encounter her exes as they travel across the country, but the right man may be closer than she thinks
1 hr 36 min
PG-13 | sexual content and some language
Cast: Paula Patton, Djimon Hounsou, Derek Luke, Taye Diggs, Jill Scott
Director: David E. Talbert
Genres: Romantic Comedy, Comedy
See or not: Probably not