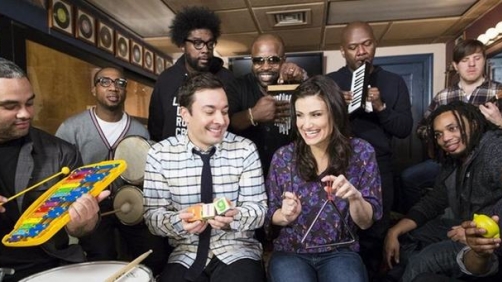 You read my post earlier about how much I love Frozen, right? Well, what I didn't say is this:
I'm sick of "Let It Go."
Great song? For sure. Deserving of the Academy Award for Best Original Song? Totally. Idina Menzel sings it beautifully? Oh yeah.
But it has been so ridiculously overplayed over the past few months that I'm ready to just Let. It. Go. (I went there!) Despite all of that, I was so excited to hear Menzel perform it live on the Oscars this past Sunday, but I was incredibly underwhelmed, partially because I'm still tired of the song and partially because she didn't sing it very well, possibly because of the anxiety brought upon her by John Travolta's mispronunciation of "Adele Dazim's" name when introducing her... sorry, had to bring that up again because it's so funny!
ANYWAY. All of that said to introduce this delightful, refreshing, so-much-better-than-her-Academy-Awards-performance rendition of the Oscar-winning song, "Let It Go," accompanied by Jimmy Fallon of The Tonight Show and his house band, The Roots. The best part? The music is all played on children's instruments.
Enjoy.