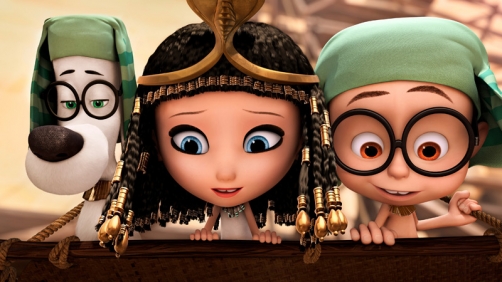 As you may have heard on Episode 81 of The MovieByte Podcast, I had to work hard to convince TJ to see this film rather than the much manlier 300: Rise of an Empire, which I have absolutely no interest in ever seeing. That being said, I was hopeful that this movie would be worth the money to see it in the theater, both for TJ's and my sakes. While it may not have been as good as I had hoped, I do think that it ended up being a pretty decent family film that I would certainly say is worth the money. Note: a few spoilers ahead, but no major ones.
An Extraordinary Dog
Mr. Peabody & Sherman — based on the Peabody's Improbable History segments from the old 1960s television show The Rocky and Bullwinkle Show — tells the story of Mr. Peabody (Ty Burrell), a dog who is accomplished as a scientist, cook, dancer, mathematician, historian, and many other various careers, and his adopted human son, Sherman (Max Charles). The pair time travels using a machine called the WABAC, allowing Mr. Peabody to introduce Sherman to many historical people in the interest of education and history. When the day comes for Sherman to attend school for the first time, his superior knowledge attracts the bully Penny Peterson (Ariel Winters), who calls him a dog and instigates a fight that leads to the terrifying Children's Services agent Mrs. Grunion (Allison Janney) investigating whether or not Mr. Peabody is fit to look after a human child. To alleviate tensions between Sherman and Penny, Mr. Peabody invites Penny and her parents over for dinner that night. Things are going well until Sherman takes Penny for an adventure in the WABAC to impress her, causing trouble not only for Mr. Peabody but also for the very fabric of the universe.
Speak!
The voice cast is pretty excellent across the board here. Max Charles as Sherman is wonderfully cute and surprisingly eclectic in presentation for someone of his age, and the various random actors who make appearances throughout the film - including but not limited to Stephen Colbert, Leslie Mann, Patrick Warburton, and Stanley Tucci - are all delightful as well. However, the real standout here is Ty Burrell as the incredibly talented Mr. Peabody. His deadpan presentation of pun after pun and matter-of-fact way of presenting information without appearing flat or uninteresting is impressive, but he also brings a lot of vocal variety to the role, to the point that I'm not sure if I would have recognized the voice as belonging to Mr. Burrell if I didn't have access to the cast list.
Paradoxes
I'm known around these parts as the Resident Back to the Future Expert, which is a large reason as to why I was looking forward to this film — time travel is the coolest! However, I do have a couple of complaints with the time travel mechanics utilized in the film. I'm glad that they make a big deal about how meeting yourself while time travelling is a bad thing, but what confuses me is that, when this inevitably happens, the paradox causes people from the past to suddenly teleport to the present, which doesn't make much sense to me. Granted, it's a children's movie, but this just seems like it was so because the script called for it to be. I did like the solution to said paradox, but I just think that it could have been set up better, i.e. in a way that makes sense to the time travel mechanics set up in the film.
Puns, Puns Everywhere!
For the most part, I think that the humor of the film was a good balance of slapstick comedy for the children and puns/cultural reference jokes for adults, but I do think that they went too far in either direction a couple of times. The puns were always funny - I do love a good pun - but there was one joke in particular that was used multiple times in the film (four, if I remember correctly) that was funny the first couple of times but then fell flat after that. As I said above, I didn't like the paradox mechanics much, but bringing together so many historical characters in one place did allow for a lot of laughs, with the one that stands out the most in my mind being Beethoven conducting a dance version of his Symphony No. 5 while dancing along on a Dance Dance Revolution arcade game. On the opposite side of the spectrum, though, there was a joke made by President Bill Clinton in a scene that, although incredibly funny (I died of laughter), was a bit too mature, and I could foresee parents having to answer awkward questions from their children regarding the meaning of his quip.
I should also mention that the opening sequence of the film, in which Mr. Peabody introduces himself, his backstory, and his accomplishments, was almost completely spoiled by the trailers, which killed the comedy of it despite the fun of it all.
Everything is Dogs
I would say that the first half of the film is better than the second half due to a couple of weird story/character decisions, with the revelation at the climax of the film being simultaneously sweet and reeeeeaaaaaally lame. That aside, I really appreciated this movie for its lovable characters, the use of time travel as an educational tool, and the great, colorful animation that we've come to expect from Dreamworks Animation films — though I think we can all agree that this is no How to Train Your Dragon. The musical score by Danny Elfman is actually quite good too; it's one of his best in recent years, in my opinion. Mr. Peabody & Sherman is not the best animated film out there, but it's better than many, and it's certainly worth your time and money.