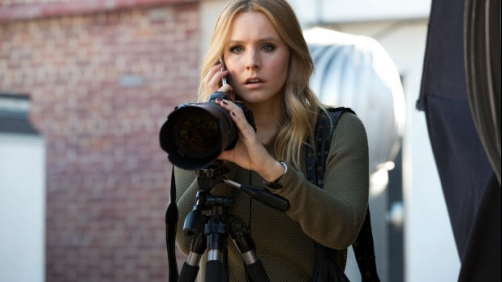 Moisés Chiullan — TechHive
The campaign to revive Veronica Mars delivered a number of cool things—an enormous number of new Kickstarter users and, lest we forget, a full-length motion picture of a deeply loved TV series that arrived Friday. But the movie's arrival introduced something else to Veronica Mars fans: their first interaction with the UltraViolet video locker service, the method the movie's distributors are using to fulfill the downloads promised to people who backed the movie on Kickstarter. It's been ugly, to say the least.
UltraViolet is the worst of the worst when it comes to studios trying to keep control of "new media." The big content owners have been very slow to respond to a changing market and they've really gotten behind the tide. For now they still maintain control, but they have angered pretty much everybody on the planet who is not a studio executive or an otherwise mentally challeneged studio moron.
...if you want to watch the movie on your TV via an Apple TV? Forget it. The iOS apps don't support AirPlay or external monitors, and there's no Vudu or Flixster app for Apple TV. If you're a fan of both Apple and Veronica Mars who wants to watch your Kickstarter reward on the TV, using the Flixster or Vudu apps for the PlayStation or Xbox might be your best bet.
The problem is everyone wants to create service lock-in after some fashion. I'm not saying Apple is perfect here either, but at least for me, they provide the most options. And actually, most of the service lock-in problems with Apple are directly tied back to the movie studios who require DRM. Apple fought and won the DRM battle with the music studios, but they just don't have the leverage with movies and TV shows. What the studios should really be doing, if they were smart, is making the content their viewers pay for available on any and all platforms without restriction. This is anathema to the average studio pencil pusher though. Remove restrictions, which piracy soar, you know.
Except that piracy is already through the roof. You WON'T stop pirates — not this way. What you should be doing is engendering goodwill from your average users, and even your more geeky, tech savvy users. Then they'll be less likely to pirate and everybody wins. Real pirates will still pirate, but that's to be expected.
...for Warner Bros. and all the major studios, if it doesn't have DRM, it's not an option. Their reasoning: without DRM, piracy will run rampant. Of course, piracy is already running rampant.Veronica Mars is already available, in high definition, on BitTorrent, just hours after it was released.
Exactly.
Definitely make time to read Moisés' entire article.
I would be remiss however if I didn't note that Warner Bros. has decided to make this whole thing right by the KickStarter backers and refund any iTunes purchases for them. Still, it's a blow to UltraViolet — and I couldn't be happier about that since it's an awful peice of garbage.