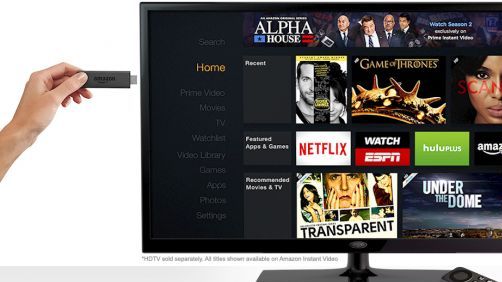 Moisés Chiullan — Arthouse Cowboy
Amazon Fire TV has the baseline triumvirate needed for one of these boxes to work for me:

responsive, fast internals (loads high-bitrate 1080p content in a snap)
an RF remote
an actually-growing, competitive "app channel" marketplace (still missing favorites like Acorn TV and Warner Archive Instant, but they'll arrive)

Most importantly, it doesn't stop working after an update (Apple), or suddenly decide it hates Hulu (Apple and Roku), or block content marketplaces that compete with them (like Apple does through "curation").
If, like me, you've become a little disillusioned with Apple TV and have grown weary of waiting for Apple to actually do something there, then I think this may be the right product for you. When the Fire TV first came out at the same price as the Apple TV — and as I started seeing positive reviews of it from pro-Apple people — I thought it just might be my next device if Apple didn't do something drastic about the lagging behind of the Apple TV.
And now, with the Fire Stick priced as it is, it's like Amazon was practically twisting my arm to take this amazing device that can work with all my various streaming media services of which Apple only works with some. So I have ordered one. If it doesn't work out, I'm out $20 bucks. Not a huge deal. That's my weekly allowance for eating out with co-workers and stuff.
Order here if you are also interested »
I've been pretty frustrated with the interface and laggy performance of the Apple TV for the streaming services I use that do work with Apple TV. I hear the Fire TV is very fast and not laggy at all, and the specs on this Fire Stick seem to be inline with that to give the same performance.
Above all, I'm really excited that I don't have to hook up a laptop to watch Amazon Prime in the future. Right now, the Apple TV does not support Amazon Prime Video and I have no expectation that it ever will since Apple views it as competition. My Wii U is supposed to work with Amazon Prime, but it's pretty buggy and half the time will cease play-back mid stream and timeout (and that's if the Wii isn't busy updating itself without asking for my permission or waiting until late at night when no one cares — it's pretty pathetic). It's not a great experience.
I am hopeful that this device will get me much closer to what I want from a streaming set-top box than anything else ever has. And for those rare occasions when I need access only to Apple's online catalog for renting or buying an iTunes film or what have you, I still do have the Apple TV. It will be sitting right there, an HDMI cord away from doing whatever it is I need to do.
My fingers are crossed.