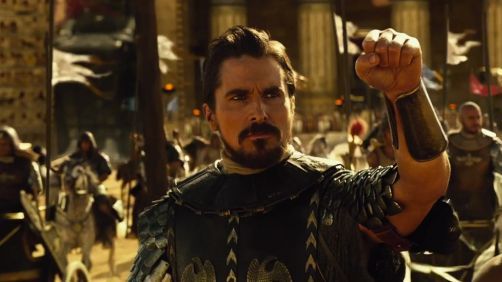 While I prepare myself for nothing but the deepest disappointment from this film, I cannot help but to be quite excited by this trailer. Some Christians are going to scoff and point fingers at this point, but I think it's too early for that. For instance I can see that some will say that Moses is delivering God's word to Pharaoh in quite an arrogant and unbecoming way and having conversations with him that are not recorded in the Bible. Well, that's true, but I don't think we should deny the fact that there may have been (and most certainly were) events that transpired that are not recorded in the Biblical text. Not to mention, this is a trailer, not the film.
There's also hints that the reason the Nile river turned to blood is because a bunch of people were slaughtered in the river. That is the indication of the trailer. This may or may not be what the film will ultimately say, and it may or may not matter. I don't expect this film to be a dry take on what happened, and I expect embellishment. I also expect to have some Biblical accuracy problems with this film, but I have a feeling I'll still like it on the whole.
This trailer does much to encourage me for this film. The theatrical premiere is set for December 12.