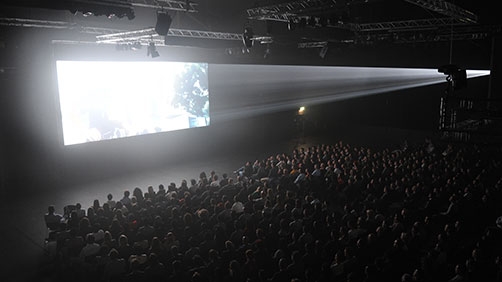 Whatever shall we see this weekend? Is there anything playing in those crazy theaters? Let's find out shall we?
Remember that this is not an exhaustive list, I list new films, then only films I feel are worthy of mentioning, or if it's exceptionally bad, warning you about.
New Films
Broken City (R)
I'm going to be seeing this film this weekend so that we can talk about it on the upcoming Episode 28 of The MovieByte Podcast. It's R rated so you certainly won't want to take the kiddos.
Over on Rotten Tomatoes, the Tomatometer shows shows that the critics are really hating on the film. But the audience is much more positive about it. I'm a big fan of Russell Crowe, but sort of neutral about Mark Wahlberg. I'm willing to give the film a chance and I'll let you know what I think.
Synopsis:
In a broken city rife with injustice, ex-cop Billy Taggart (Mark Wahlberg) seeks redemption – and revenge – after being double-crossed and then framed by its most powerful figure, the mayor (Russell Crowe). Billy's relentless pursuit of justice, matched only by his streetwise toughness, makes him an unstoppable force – and the mayor's worst nightmare.
Be sure to tune in to The MovieByte Podcast live on Wednesday to hear us discuss the film.
Russel Crowe Talks 'Broken City' and 'Man of Steel' »
Apple Trailers »
---
The Last Stand (R)
This is a Schwarzenegger film, and you either love him or hate him. I can't stand his films — the guy simply can't act — and I really have no desire to see this film. And in addition to the R rating, it looks like his usual fair so be warned.
After leaving his LAPD narcotics post following a bungled operation that left him wracked with remorse and regret, Sheriff Ray Owens (Schwarzenegger) moved out of Los Angeles and settled into a life fighting what little crime takes place in sleepy border town Sommerton Junction. But that peaceful existence is shattered when Gabriel Cortez (Eduardo Noriega), the most notorious, wanted drug kingpin in the western hemisphere, makes a deadly yet spectacular escape from an FBI prisoner convoy. With the help of a fierce band of lawless mercenaries led by the icy Burrell (Peter Stormare), Cortez begins racing towards the US-Mexico border at 250 mph in a specially-outfitted Corvette ZR1 with a hostage in tow. Cortez' path: straight through Summerton Junction, where the whole of the U.S. law enforcement, including Agent John Bannister (Forest Whitaker) will have their final opportunity to intercept him before the violent fugitive slips across the border forever.
---
Mama (PG-13)
This is a horror film, and given the trailers, I am surprised it's only PG-13. I personally have no interest in this film, though I'll probably wind up seeing it so that I can give my informed opinion on the film for you fine folks.
On the day that their parents die, sisters Lilly and Victoria vanish in the woods, prompting a frantic search by their Uncle Lucas (Nikolaj Coster-Waldau) and his girlfriend, Annabel (Jessica Chastain). Five years later, miraculously, the girls are found alive in a decaying cabin, and Lucas and Annabel welcome them into their home. But as Annabel tries to reintroduce the children to a normal life, she finds that someone—or something—still wants to tuck them in at night.
---

Now Playing
Gangster Squad (R)
This film is rated R and it's a little bit bloody, but it's a very fine film and well worth seeing. The story and character development is satisfying, the plot doesn't lag, and the acting is first class.
Los Angeles, 1949. Ruthless, Brooklyn-born mob king Mickey Cohen (Sean Penn) runs the show in this town, reaping the ill-gotten gains from the drugs, the guns, the prostitutes and—if he has his way—every wire bet placed west of Chicago. And he does it all with the protection of not only his own paid goons, but also the police and the politicians who are under his control. It's enough to intimidate even the bravest, street-hardened cop…except, perhaps, for the small, secret crew of LAPD outsiders led by Sgt. John O'Mara (Josh Brolin) and Jerry Wooters (Ryan Gosling), who come together to try to tear Cohen's world apart. "Gangster Squad" is a colorful retelling of events surrounding the LAPD's efforts to take back their nascent city from one of the most dangerous mafia bosses of all time.
Six Clips from 'Gangster Squad' »
Apple Trailers »
---
Zero Dark Thirty (R)
I'm really not interested in this film but I can see how some would be.
Following the terrorist attacks of Sept. 11, 2001, Osama bin Laden becomes one of the most-wanted men on the planet. The worldwide manhunt for the terrorist leader occupies the resources and attention of two U.S. presidential administrations. Ultimately, it is the work of a dedicated female operative (Jessica Chastain) that proves instrumental in finally locating bin Laden. In May 2011, elite Navy SEALs launch a nighttime strike against bin Laden's compound in Pakistan, killing him.
---
Les Misérables (PG-13)
If you haven't seen this film yet, then why on earth not? While it is not a kids film due to the adult thematic elements it deals with, it is well worth seeing because of the truth the film speaks about these very things. If you haven't seen it yet, GO!
Set against the backdrop of 19th-century France, Les Misérables tells an enthralling story of broken dreams and unrequited love, passion, sacrifice and redemption—a timeless testament to the survival of the human spirit. Jackman plays ex-prisoner Jean Valjean, hunted for decades by the ruthless policeman Javert (Crowe) after he breaks parole. When Valjean agrees to care for factory worker Fantine's (Hathaway) young daughter, Cosette, their lives change forever.
The MovieByte Review of Les Mis »
The MovieByte Podcast #25 »
Movieology #2 »
---
Django Unchained (R)
Bloody though the film may be (this is Tarantino what would you expect?) I think you should see it. I rated it 3.5 stars. Joseph however, only rated it 2.5.
Set in the South two years before the Civil War, Django (Jamie Foxx) is a slave whose brutal history with his former owners lands him face-to-face with German-born bounty hunter Dr. King Schultz (Christoph Waltz). Schultz is on the trail of the murderous Brittle brothers, and only Django can lead him to his bounty. The unorthodox Schultz acquires Django with a promise to free him upon the capture of the Brittles - dead or alive. Success leads Schultz to free Django, though the two men choose not to go their separate ways. Instead, Schultz seeks out the South's most wanted criminals with Django by his side. Honing vital hunting skills, Django remains focused on one goal: finding and rescuing Broomhilda (Kerry Washington), the wife he lost to the slave trade long ago. Django and Schultz's search ultimately leads them to Calvin Candie (Leonardo DiCaprio), the proprietor of "Candyland," an infamous plantation where slaves are groomed to battle each other for sport.
---
Jack Reacher (PG-13)
It's a fun film and definitely worth seeing. Joseph's review the film and was a bit harsh in my view, but it's still worth reading. We also talked about the film on The MovieByte Podcast.
One morning in an ordinary town, five people are shot dead in a seemingly random attack. All evidence points to a single suspect: an ex-military sniper who is quickly brought into custody. The man's interrogation yields one statement: Get Jack Reacher (Tom Cruise). Reacher, an enigmatic ex-Army investigator, believes the authorities have the right man but agrees to help the sniper's defense attorney (Rosamund Pike). However, the more Reacher delves into the case, the less clear-cut it appears.
Joseph's Review »
The MovieByte Podcast #24 »
---
The Hobbit (PG-13)
Definitely a must see. It's fun, epic, well made, and most importantly it's a prequel to The Lord of the Rings trilogy. Do you need more reasons to see this film?
Bilbo Baggins (Martin Freeman) lives a simple life with his fellow hobbits in the shire, until the wizard Gandalf (Ian McKellen) arrives and convinces him to join a group of dwarves on a quest to reclaim the kingdom of Erebor. The journey takes Bilbo on a path through treacherous lands swarming with orcs, goblins and other dangers, not the least of which is an encounter with Gollum and a simple gold ring that is tied to the fate of Middle Earth in ways Bilbo cannot even fathom.
My Review »
The MovieByte Podcast #23 »
---
Argo (R)
Having received both nominations and actual awards, this film is managing to hold on to it's theater run. And if you haven't seen it, please go see it!
On Nov. 4, 1979, militants storm the U.S. embassy in Tehran, Iran, taking 66 American hostages. Amid the chaos, six Americans manage to slip away and find refuge with the Canadian ambassador. Knowing that it's just a matter of time before the refugees are found and likely executed, the U.S. government calls on extractor Tony Mendez (Ben Affleck) to rescue them. Mendez's plan is to pose as a Hollywood producer scouting locations in Iran and train the refugees to act as his "film" crew.
Argo (2012) - Review »
The Moviebyte Podcast #14: A Movie About a Fake Movie »
Ebert Names 'Argo' Best Film of 2012 »
TJ's Movie Picks of 2012 »