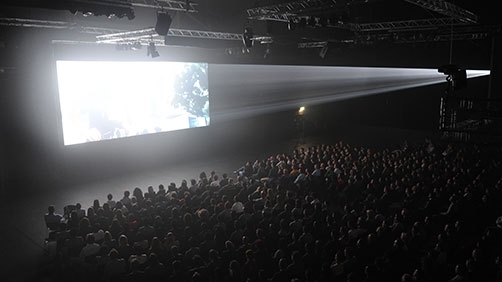 The offerings at the box office this time of year may be a bit tepid, but we're still here to tell you what might possibly be interesting to you. So here's your guide to the box office this weekend. Buckle up though, with all the (lack of) excitement here at this weekend's box office, your (not) going to need to hang on to your socks!!!!!1!!!!!
New This Weekend
Identity Thief - R
This actually looks like it might be fun. I don't know for sure, it could be so over the top as to cross the line from fun to tedious. Still, I don't expect it to be any more than a three star film at most.
Florida resident Diana (Melissa McCarthy) has a luxurious lifestyle as the queen of retail, buying whatever strikes her fancy—and it's all free, thanks to Sandy Bigelow Patterson (Jason Bateman), a guy from Denver whose identity she stole. With just one week to track down Diana before his world implodes, the real Sandy heads south to confront the unapologetic con artist and bring her back to Denver so that he can clear his name and restore his shattered credit rating.
Cast: Jason Bateman, Melissa McCarthy, Jon Favreau, Amanda Peet, Tip "T.I." Harris, Génesis Rodríguez
Director: Seth Gordon
See or not: Maybe
---
Side Effects - R
I don't think I'm interested, it looks positively horrible. But I probably will see it to be able to offer my opinion. I expect this to be about a 2 star film.
SIDE EFFECTS is a provocative thriller about Emily and Martin (Rooney Mara and Channing Tatum), a successful New York couple whose world unravels when a new drug prescribed by Emily's psychiatrist (Jude Law) – intended to treat anxiety – has unexpected side effects.
Cast: Rooney Mara, Channing Tatum, Jude Law, Catherine Zeta-Jones
Director: Steven Soderbergh
See or not: Probably Not
---
Top Gun: An IMAX 3D Experience - PG
Ugh!
The story of an elite group of pilots competing to be the best in their class and earn the title of "TOP GUN" captured the imagination of a generation and earned a worldwide box office of over $350 million upon its release. The film stars Tom Cruise as Maverick and Kelly McGillis as his civilian instructor. The film also stars Val Kilmer, Anthony Edwards and Meg Ryan.
Cast: Tom Cruise, Kelly McGillis, Anthony Edwards
Director: Tony Scott
See or not: NOT
---
Now Playing
Warm Bodies - PG-13
An unfortunately flawed film that I really can't recommend that you waste your money on. There was good acting in this film, unfortunately that acting was relegated to minor roles. The lead actors were terribly unconvincing. And the weak plot failed to engage me in any meaningful way. It might be worth watching, but wait for the Blu-ray. Catch my review here. We also talked about it briefly on The MovieByte Podcast.
A funny new twist on a classic love story, WARM BODIES is a poignant tale about the power of human connection. After a zombie epidemic, R (a highly unusual zombie) encounters Julie (a human survivor), and rescues her from a zombie attack. Julie sees that R is different from the other zombies, and as the two form a special relationship in their struggle for survival, R becomes increasingly more human – setting off an exciting, romantic, and often comical chain of events that begins to transform the other zombies and maybe even the whole lifeless world.
Cast: Nicholas Hoult, Teresa Palmer, Rob Corddry, John Malkovich, Dave Franco, Analeigh Tipton
Director: Jonathan Levine
See or not: Not
My Review »
The MovieByte Podcast # 30: We're Fine Here »
Warm Bodies Trailer »
Four Minute Clip from Warm Bodies »
---
Silver Linings Playbook - R
I suppose I'm going to have to see this because everyone is saying it's good — even people I would not have expected to give what I currently know about this film. It doesn't look interesting to me, but I should give it a chance I reckon.
Life doesn't always go according to plan…Pat Solitano (Bradley Cooper) has lost everything – his house, his job, and his wife. He now finds himself living back with his mother (Jacki Weaver) and father (Robert DeNiro) after spending eight months in a state institution on a plea bargain. Pat is determined to rebuild his life, remain positive and reunite with his wife, despite the challenging circumstances of their separation. All Pat's parents want is for him to get back on his feet - and to share their family's obsession with the Philadelphia Eagles football team. When Pat meets Tiffany (Jennifer Lawrence), a mysterious girl with problems of her own, things get complicated. Tiffany offers to help Pat reconnect with his wife, but only if he'll do something very important for her in return. As their deal plays out, an unexpected bond begins to form between them, and silver linings appear in both of their lives.
Cast: Bradley Cooper, Jennifer Lawrence, Robert De Niro, Jacki Weaver, Chris Tucker
Director: David O. Russell
See or not: tentative See
---
Mama - PG-13
This is a horror film, and given the trailers, I am surprised it's only PG-13. I personally have no interest in this film, though I'll probably wind up seeing it so that I can give my informed opinion on the film for you fine folks.
On the day that their parents die, sisters Lilly and Victoria vanish in the woods, prompting a frantic search by their Uncle Lucas (Nikolaj Coster-Waldau) and his girlfriend, Annabel (Jessica Chastain). Five years later, miraculously, the girls are found alive in a decaying cabin, and Lucas and Annabel welcome them into their home. But as Annabel tries to reintroduce the children to a normal life, she finds that someone – or something – still wants to tuck them in at night.
Cast: Jessica Chastain, Nikolaj Coster-Waldau, Megan Charpentier, Isabelle Nelisse, Daniel Kash, Javier Botet
Director: Andy Muschietti
See or not: Not
---
Bullet to the Head - R
I can't find a synopsis longer than this slightly longer than short sentence. That should tell you something:
After watching their respective partners die, a New Orleans hitman and a Washington D.C. detective form an alliance in order to bring down their common enemy.
That's it. I'm not a fan of Stallone films so I am probably the wrong guy to ask, but this film looks truly awful. Jordan Hoffman over at Film.com certainly thinks so:
Unfortunately the bulk of the picture is cut together like a beer commercial on poorly lit cheap video without much panache. Unless primary colors with a gauzy halo is panache. Can't be sure. Nor can you be sure if Sly is wearing tons of lipstick in some shots. (It's really, really bad video.)

There's a place for "Bullet to the Head" and that's on Superstation at 3 AM when you stumble home from the bar and have enough sense not to start drunk dialing. In 1993.
Cast: Sylvester Stallone, Kang Sung, Sarah Shahi, Adewale Akinnuoye-Agbaje, Jason Momoa, Christian Slater
I recommend against.
See or not: Not
Apple Trailers Page »
Film.com Review »
---
Zero Dark Thirty - R
I'm really not interested in this film but I can see how some would be.
Following the terrorist attacks of Sept. 11, 2001, Osama bin Laden becomes one of the most-wanted men on the planet. The worldwide manhunt for the terrorist leader occupies the resources and attention of two U.S. presidential administrations. Ultimately, it is the work of a dedicated female operative (Jessica Chastain) that proves instrumental in finally locating bin Laden. In May 2011, elite Navy SEALs launch a nighttime strike against bin Laden's compound in Pakistan, killing him.
Cast: Joel Edgerton, Jessica Chastain, Edgar Ramirez, Kyle Chandler, Mark Strong, Chris Pratt, James Gandolfini
Director: Kathryn Bigelow
See or not: Depends on your tastes
---
Parker - R
I caught Parker with Joe while I was in town for meetings. It was certainly entertaining, and enjoyable in some ways. In other ways, well, it completely sank. Particularly confusing is how we the audience are supposed to connect to the male lead and the female lead, when another character/love interest has been thrown in the mix for the lead guy. The morality of this film is also quite questionable where evil and good are turned on their heads and you are lead to believe that at least in some way, what Parker is doing as a thief is okay for him. He has his own form of morality, his own code, and that's okay. But it's not okay. So many people get up in arms over language, or overt sexuality in films, but if you want to talk about something dangerous, I think the twisting of the definitions of good and evil are of the most very dangerous sort. It is certainly something to be aware of about this film.
Joe reviewed the film, and we talked about it on this week's episode of The MovieByte Podcast.
Parker (Jason Statham) is a professional thief who lives by a personal code of ethics: Don't steal from people who can't afford it and don't hurt people who don't deserve it. But on his latest heist, his crew double crosses him, steals his stash, and leaves him for dead. Determined to make sure they regret it, Parker tracks them to PalmBeach, playground of the rich and famous, where the crew is planning their biggest heist ever. Donning the disguise of a rich Texan, Parker takes on an unlikely partner, Leslie (Jennifer Lopez), a savvy insider, who's short on cash, but big on looks, smarts and ambition. Together, they devise a plan to hijack the score, take everyone down and get away clean.
Cast: Jason Statham, Jennifer Lopez, Clifton Collins, Jr., Wendell Pierce, Michael Chiklis, Nick Nolte
Director: Taylor Hackford
See or not: Not
Joe's Review »
The MovieByte Podcast #29: Renner Has a Boom Stick »
Parker TV Spot (and theatrical trailer) »
Apple Trailers Page »
---
Hansel and Gretel - R
I enjoyed the film for what it was, but you should be warned it is rather bloody and violent at times (see the Red Band trailer). Joe didn't enjoy it very much, but he's a bit of a dead weight on these sorts of things sometimes (don't worry, he can take the jab, he's a big boy). I reviewed the film, and you might want to read that. We also talked about the film on this week's episode of The MovieByte Podcast.
Fifteen years after Hansel (Jeremy Renner) and Gretel (Gemma Arterton) defeated the wicked witch who planned to have them for her dinner, the siblings have come of age as skilled bounty hunters. Hell-bent on retribution, they have dedicated their lives to hunting down and destroying every witch still lurking in the dark forests of their homeland. As the notorious blood moon approaches, the siblings face a great evil – one that could hold the secret to their terrifying past.
Cast: Jeremy Renner, Gemma Arterton, Famke Janssen, Peter Stormare, Ingrid Bolsø Berdal
See or not: See
My Review of Hansel and Gretel »
The MovieByte Podcast #29: Renner Has a Boom Stick »
'Hansel and Gretel' Red Band Trailer »
Apple Trailers Page »
---
Django Unchained - R
Bloody though the film may be (this is Tarantino what would you expect?) I think you should see it. I rated it 3.5 stars. Joseph however, only rated it 2.5.
Set in the South two years before the Civil War, Django (Jamie Foxx) is a slave whose brutal history with his former owners lands him face-to-face with German-born bounty hunter Dr. King Schultz (Christoph Waltz). Schultz is on the trail of the murderous Brittle brothers, and only Django can lead him to his bounty. The unorthodox Schultz acquires Django with a promise to free him upon the capture of the Brittles - dead or alive. Success leads Schultz to free Django, though the two men choose not to go their separate ways. Instead, Schultz seeks out the South's most wanted criminals with Django by his side. Honing vital hunting skills, Django remains focused on one goal: finding and rescuing Broomhilda (Kerry Washington), the wife he lost to the slave trade long ago. Django and Schultz's search ultimately leads them to Calvin Candie (Leonardo DiCaprio), the proprietor of "Candyland," an infamous plantation where slaves are groomed to battle each other for sport.
Cast: Jamie Foxx, Leonardo DiCaprio, Christoph Waltz, Samuel L. Jackson, Walton Goggins
Director: Quentin Tarantino
See or not: See
The MovieByte Podcast #26 »
Apple Trailers Page »
---
Stand Up Guys - R
Al Pacino, Christopher Walken, and Alan Arkin… This actually looks like it might be okay. It certainly looks like it has it's funny moments.
After serving 28 years in prison for accidentally killing the son of a crime boss, newly paroled gangster Val (Al Pacino) reunites with his former partners in crime, Doc (Christopher Walken) and Hirsch (Alan Arkin), for a night on the town. As the three men revisit old haunts, reflect on their glory days and try to make up for lost time, one wrestles with a terrible quandary: Doc has orders to kill Val, and time is running out for him to figure out a way out of his dilemma.
Cast: Al Pacino, Christopher Walken, Alan Arkin, Julianna Margulies, Addison Timlin, Vanessa Ferlito, Lucy Punch, Mark Margolis
Director: Fisher Stevens
See or not: a tentative See
---
Gangster Squad - R
This film is rated R and it's a little bit bloody, but it's a very fine film and well worth seeing. The story and character development is satisfying, the plot doesn't lag, and the acting is first class. Joe and I discussed it recently on The MovieByte Podcast and we both agree. While the film is not destined to be the best film ever made or anything like that, it's a decent film to go see in theaters.
Los Angeles, 1949. Ruthless, Brooklyn-born mob king Mickey Cohen (Sean Penn) runs the show in this town, reaping the ill-gotten gains from the drugs, the guns, the prostitutes and—if he has his way—every wire bet placed west of Chicago. And he does it all with the protection of not only his own paid goons, but also the police and the politicians who are under his control. It's enough to intimidate even the bravest, street-hardened cop…except, perhaps, for the small, secret crew of LAPD outsiders led by Sgt. John O'Mara (Josh Brolin) and Jerry Wooters (Ryan Gosling), who come together to try to tear Cohen's world apart. "Gangster Squad" is a colorful retelling of events surrounding the LAPD's efforts to take back their nascent city from one of the most dangerous mafia bosses of all time.
Cast: Sean Penn, Ryan Gosling, Josh Brolin, Emma Stone, Anthony Mackie, Michael Peña
Director: Ruben Fleischer
See or not: See
The MovieByte Podcast #28: Guilty Until Proven Innocent »
Gangster Squad - Review »
New York Times' A. O. Scott Reviews 'Gangster Squad' »
Jon Polito Comments on NYT 'Gangster Squad' Review »
Six Clips from 'Gangster Squad' »
Apple Trailers Page »
---
Movie 43 - R
Oh my word this looks bad. Please don't go see it! Film.com also feels the same way.
Synopsis:
Take a hilarious director, add a brilliant cast, mix in some twisted jokes, remove all boundaries, and then stand back…way back. In Movie 43, comedy is served steaming hot (literally) by director Peter Farrelly of The Farrelly Brothers (Something About Mary, Dumb & Dumber) in one of the most shocking, original, and dangerous comedies ever made. Starring Johnny Knoxville, Gerard Butler, Anna Faris, Seann William Scott, Hugh Jackman, Richard Gere, Uma Thurman, Halle Berry, Emma Stone, Naomi Watts, Kate Bosworth, Kate Winslet, Terrence Howard, Liev Schreiber, Elizabeth Banks, Justin Long, Kristen Bell, Patrick Warburton, Josh Duhamel, Jason Sudeikis, Chloe Grace Moretz, Stephen Merchant, Christopher Mintz-Plasse, Jack McBrayer, Kieran Culkin, and Chris Pratt, Movie 43 is jaw-dropping, uproarious, outrageous fun. Warning: not for the weak-stomached, faint of heart, or easily offended.
Cast: Kate Winslet, Hugh Jackman, Liev Schreiber, Naomi Watts, Jeremy Allen White
Directors: Steven Brill, Rusty Cundieff, Griffin Dunne, Peter Farrelly, Brett Ratner
See or not: NOT NOT NOT
---
Broken City - R
I like it quite a bit and Joe more or less hated it. And alas, he wrote the official MovieByte review and gave it only 2 stars. I would rate it much higher at 3.5. I would say go, go ahead and watch it.
In a broken city rife with injustice, ex-cop Billy Taggart (Mark Wahlberg) seeks redemption – and revenge – after being double-crossed and then framed by its most powerful figure, the mayor (Russell Crowe). Billy's relentless pursuit of justice, matched only by his streetwise toughness, makes him an unstoppable force – and the mayor's worst nightmare.
Cast: Mark Wahlberg, Russell Crowe, Catherine Zeta-Jones, Jeffrey Wright, Barry Pepper
Director: Allen Hughes
See or not: See
The MovieByte Podcast #28: Guilty Until Proven Innocent »
Broken City - Review »
Russell Crowe Talks 'Broken City' and 'Man of Steel' »
Apple Trailers Page »