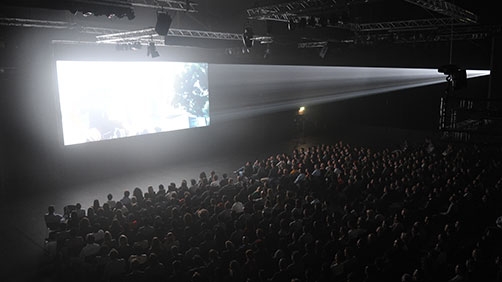 Here we are. Another week has come and gone and you may want to head to the cinema this weekend to see something. But you might be wondering what that something might be. That's why we're here to help.
New Films
Gangster Squad (R)
This film looks pretty good and I will be seeing it tomorrow. On Monday I posted six teaser clips from this upcoming film which you can find here. And here are the trailers on Apple Trailers site.
Los Angeles, 1949. Ruthless, Brooklyn-born mob king Mickey Cohen (Sean Penn) runs the show in this town, reaping the ill-gotten gains from the drugs, the guns, the prostitutes and—if he has his way—every wire bet placed west of Chicago. And he does it all with the protection of not only his own paid goons, but also the police and the politicians who are under his control. It's enough to intimidate even the bravest, street-hardened cop…except, perhaps, for the small, secret crew of LAPD outsiders led by Sgt. John O'Mara (Josh Brolin) and Jerry Wooters (Ryan Gosling), who come together to try to tear Cohen's world apart. "Gangster Squad" is a colorful retelling of events surrounding the LAPD's efforts to take back their nascent city from one of the most dangerous mafia bosses of all time.
Six Clips from 'Gangster Squad' »
Apple Trailers »
---
Zero Dark Thirty (R)
This just does not look interesting to me, but I can see how some might find it interesting. Here's the synopsis so you can decide for yourself:
Following the terrorist attacks of Sept. 11, 2001, Osama bin Laden becomes one of the most-wanted men on the planet. The worldwide manhunt for the terrorist leader occupies the resources and attention of two U.S. presidential administrations. Ultimately, it is the work of a dedicated female operative (Jessica Chastain) that proves instrumental in finally locating bin Laden. In May 2011, elite Navy SEALs launch a nighttime strike against bin Laden's compound in Pakistan, killing him.
---
Still In Theaters
Promised Land (R)
I'll also be seeing this one this weekend and we'll be talking about it on Episode 27 of The MovieByte Podcast.
Corporate sales partners Steve Butler (Matt Damon) and Sue Thomason (Frances McDormand) arrive in a small town to secure drilling rights for a natural-gas company. They believe that the economic decline has done their work for them and that the townspeople will happily accept whatever offer they make. However, they don't consider the objections of a respected schoolteacher (Hal Holbrook) and the leader (John Krasinski) of a grassroots campaign against the company's objective.
---
Parental Guidance (PG)
Ugh. This looks terrible. TERRIBLE. I have no intention of seeing it unless someone I trust tells me I'm completely wrong.
Old school grandfather Artie (Billy Crystal), who is accustomed to calling the shots, meets his match when he and his eager-to-please wife Diane (Bette Midler) agree to babysit their three grandkids when their type-A helicopter parents (Marisa Tomei, Tom Everett Scott) go away for work. But when 21st century problems collide with Artie and Diane's old school methods of tough rules, lots of love and old-fashioned games, it's learning to bend – and not holding your ground – that binds a family together.
---
Django Unchained (R)
I think you should see it if you can stand the blood and gore, Joseph is a bit ambivalent on the film. Joseph gave it 2.5 of 5 stars on The MovieByte Podcast episode discussing the film and I gave it 3.5 stars, so I'm a bit more favorable to it.
Set in the South two years before the Civil War, Django (Jamie Foxx) is a slave whose brutal history with his former owners lands him face-to-face with German-born bounty hunter Dr. King Schultz (Christoph Waltz). Schultz is on the trail of the murderous Brittle brothers, and only Django can lead him to his bounty. The unorthodox Schultz acquires Django with a promise to free him upon the capture of the Brittles - dead or alive. Success leads Schultz to free Django, though the two men choose not to go their separate ways. Instead, Schultz seeks out the South's most wanted criminals with Django by his side. Honing vital hunting skills, Django remains focused on one goal: finding and rescuing Broomhilda (Kerry Washington), the wife he lost to the slave trade long ago. Django and Schultz's search ultimately leads them to Calvin Candie (Leonardo DiCaprio), the proprietor of "Candyland," an infamous plantation where slaves are groomed to battle each other for sport.
---
Les Misérables (PG-13)
This is a must see film in my opinion. It is, of course, not a kids film as it deals with some pretty adult themes and can be somewhat violent at times, and has a scene of prostitution. But in my opinion, the presentation of these things speak truth in the way they should. If you haven't yet, GO SEE IT!
Set against the backdrop of 19th-century France, Les Misérables tells an enthralling story of broken dreams and unrequited love, passion, sacrifice and redemption—a timeless testament to the survival of the human spirit. Jackman plays ex-prisoner Jean Valjean, hunted for decades by the ruthless policeman Javert (Crowe) after he breaks parole. When Valjean agrees to care for factory worker Fantine's (Hathaway) young daughter, Cosette, their lives change forever.
The MovieByte Review of Les Mis »
The MovieByte Podcast #25 »
---
Jack Reacher (PG-13)
It's a fun film and definitely worth seeing. Joseph review the film and was a bit harsh in my view, but it's still worth reading. We also talked about the film on The MovieByte Podcast.
One morning in an ordinary town, five people are shot dead in a seemingly random attack. All evidence points to a single suspect: an ex-military sniper who is quickly brought into custody. The man's interrogation yields one statement: Get Jack Reacher (Tom Cruise). Reacher, an enigmatic ex-Army investigator, believes the authorities have the right man but agrees to help the sniper's defense attorney (Rosamund Pike). However, the more Reacher delves into the case, the less clear-cut it appears.
Joseph's Review »
The MovieByte Podcast #24 »
---
This is 40 (R)
NO!
After many years of marriage, Pete (Paul Rudd) is the sole male in a household that includes his wife, Debbie (Leslie Mann), and two young daughters (Iris Apatow, Maude Apatow). As Pete struggles to keep his record label afloat, he and Debbie navigate a three-week course of sex and romance, career victories and financial hardships, aging parents and maturing children. They'll have to learn to forgive, forget and enjoy the rest of their lives—before they kill each other.
---
The Hobbit (PG-13)
Definitely a must see. It's fun, epic, well made, and most importantly it's a prequel to The Lord of the Rings trilogy. Do you need more reasons to see this film?
Bilbo Baggins (Martin Freeman) lives a simple life with his fellow hobbits in the shire, until the wizard Gandalf (Ian McKellen) arrives and convinces him to join a group of dwarves on a quest to reclaim the kingdom of Erebor. The journey takes Bilbo on a path through treacherous lands swarming with orcs, goblins and other dangers, not the least of which is an encounter with Gollum and a simple gold ring that is tied to the fate of Middle Earth in ways Bilbo cannot even fathom.