Chad has been an avid reader and supporter of MovieByte for some time. As pretty much the only guy working on MovieByte right now, and while still trying to work to make a living in addition to MovieByte I sometimes get overwhelmed. Such was the case with Now You See Me. Though I wanted to write the review of the film, I simply haven't had time. Chad has stepped in to fill in the gap and I think him very much for doing so.
Enjoy his review, it's good stuff!
— TJ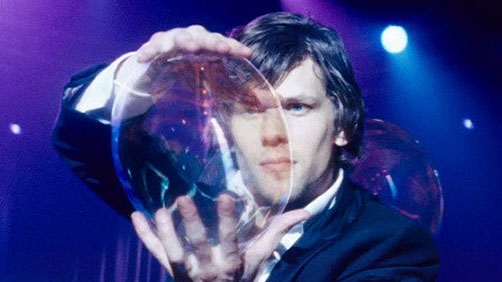 Magic is fun. Movies are fun. Combining the two to make a movie about a group of magicians who rob a bank? Even more fun! With a premise like that, Now You See Me, sets itself up from the start to be one heck of a ride - and quite an entertaining one at that!
The Magical Plot
Jesse Eisenberg, Woody Harrelson, Isla Fisher, and Dave Franco star as four magicians of varying abilities who work alone. As we are introduced to each magician performing his/her solo act, we notice a hooded figure in attendance at each performer's show. Soon, the four are brought together, each having received a…
Read The Review